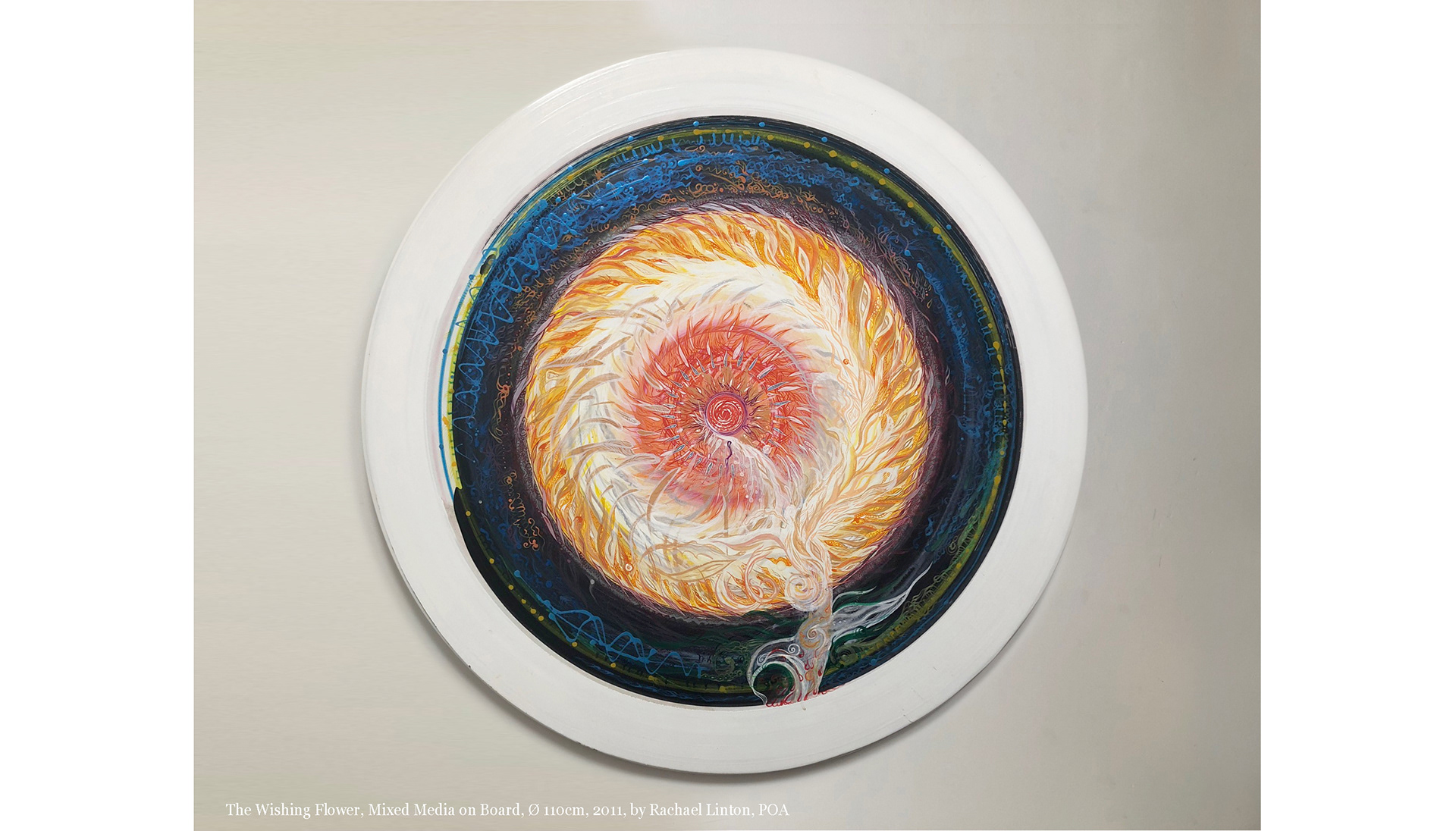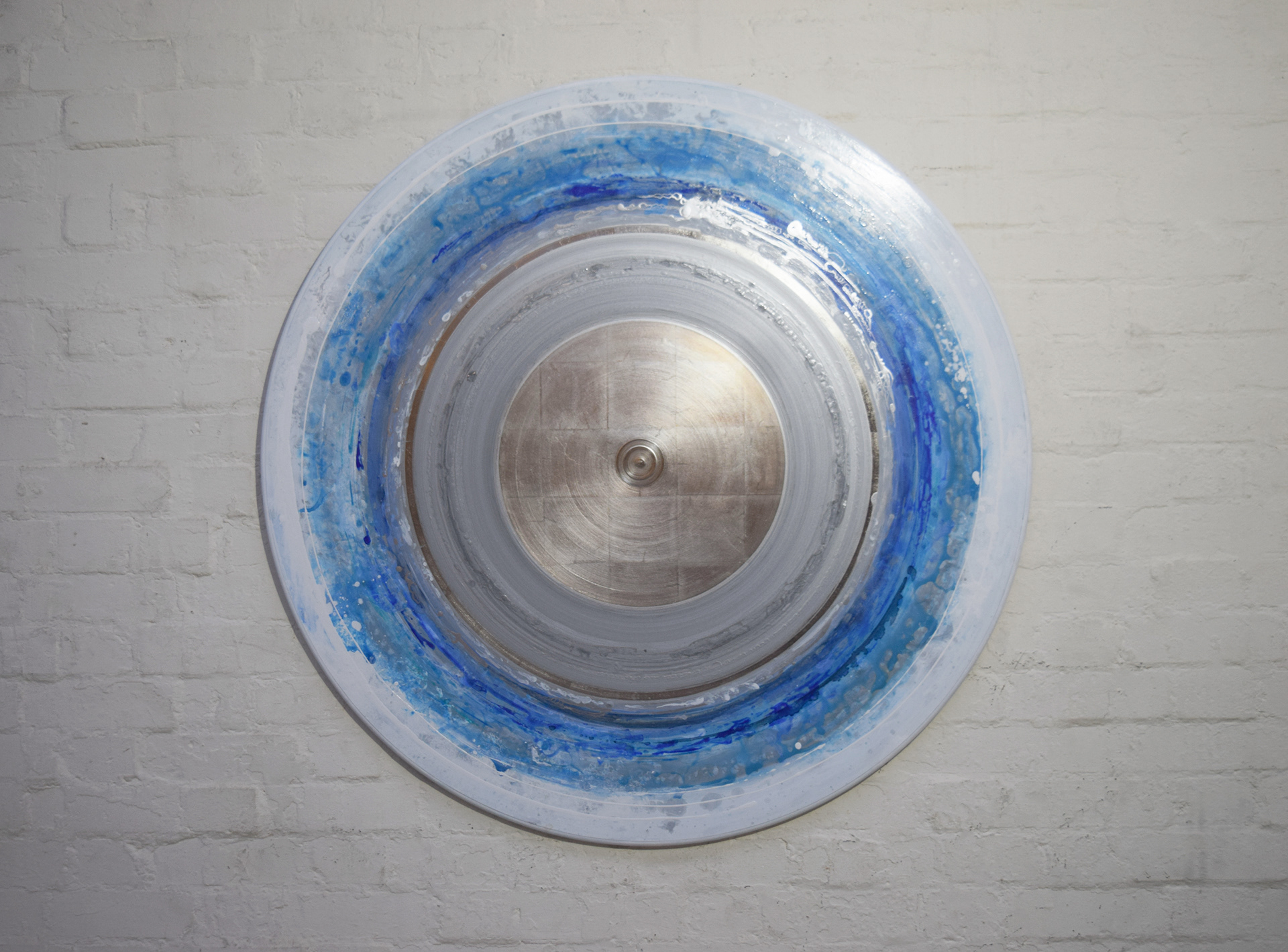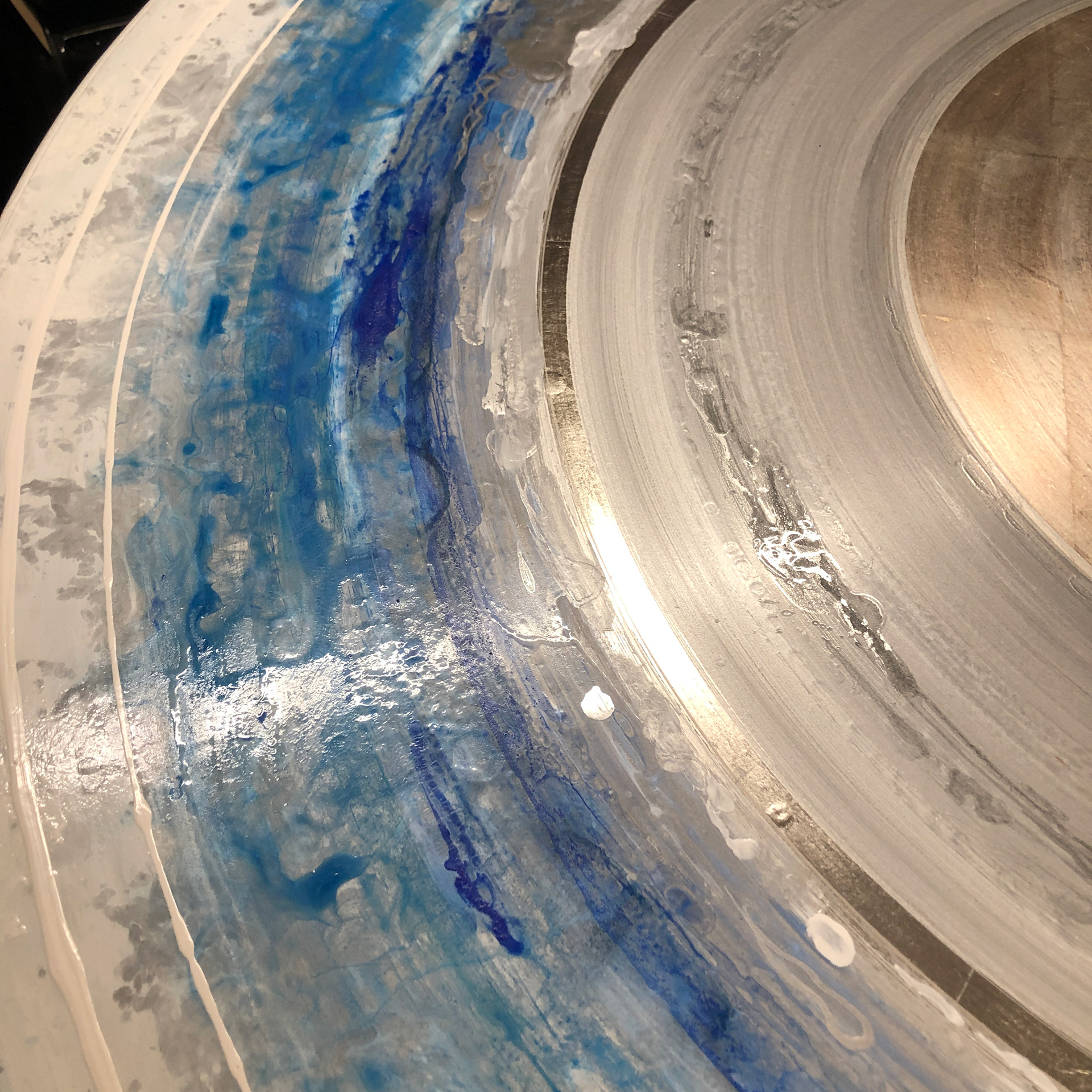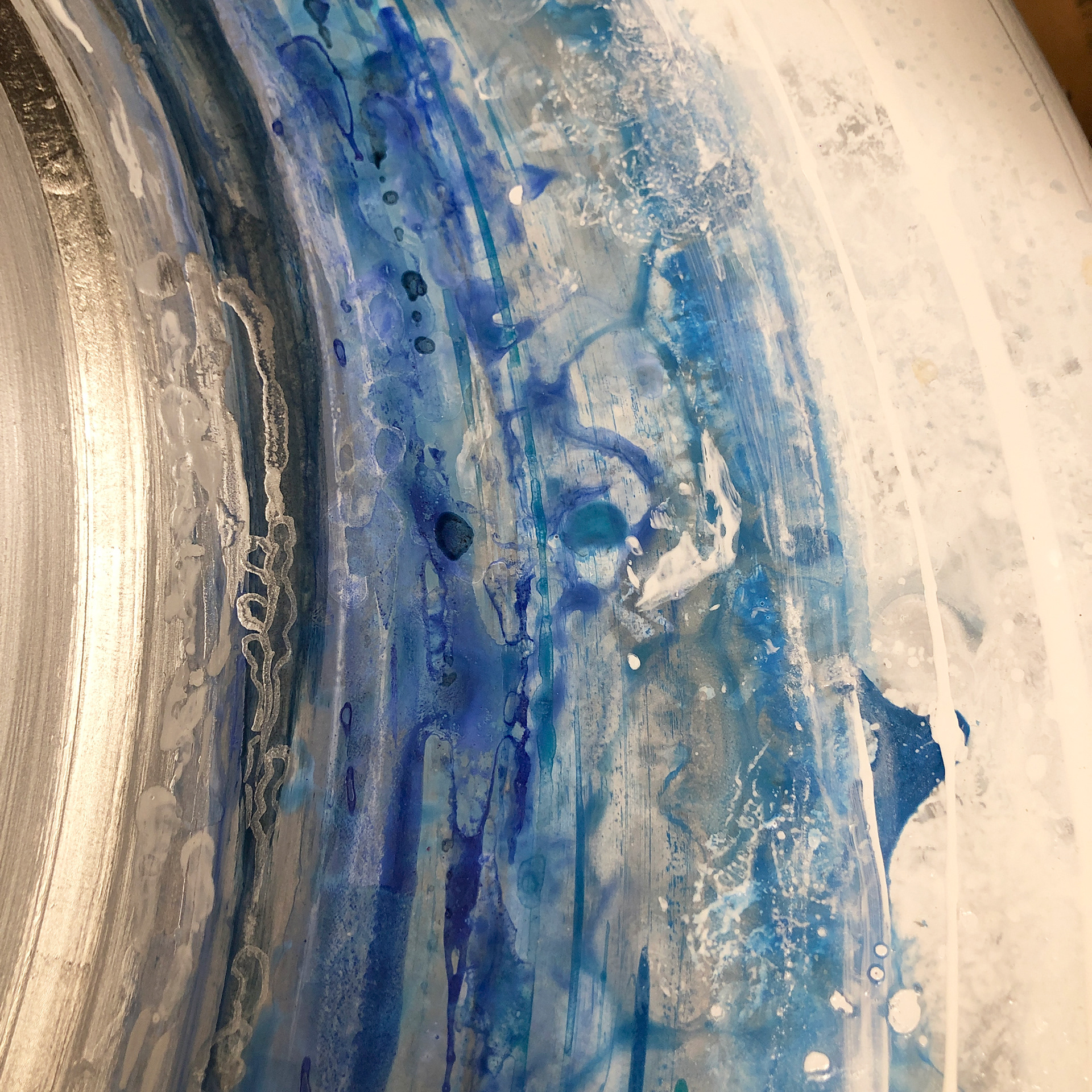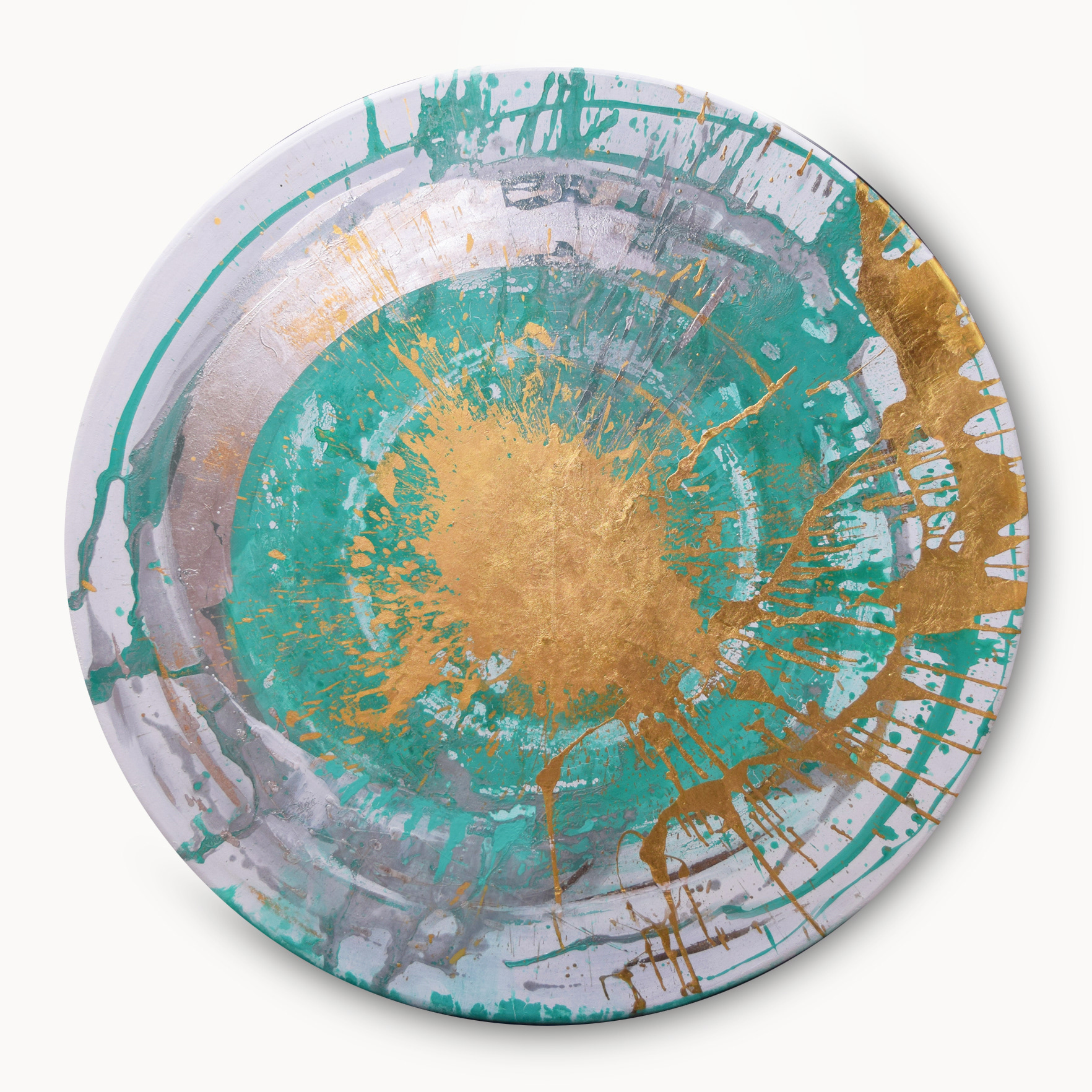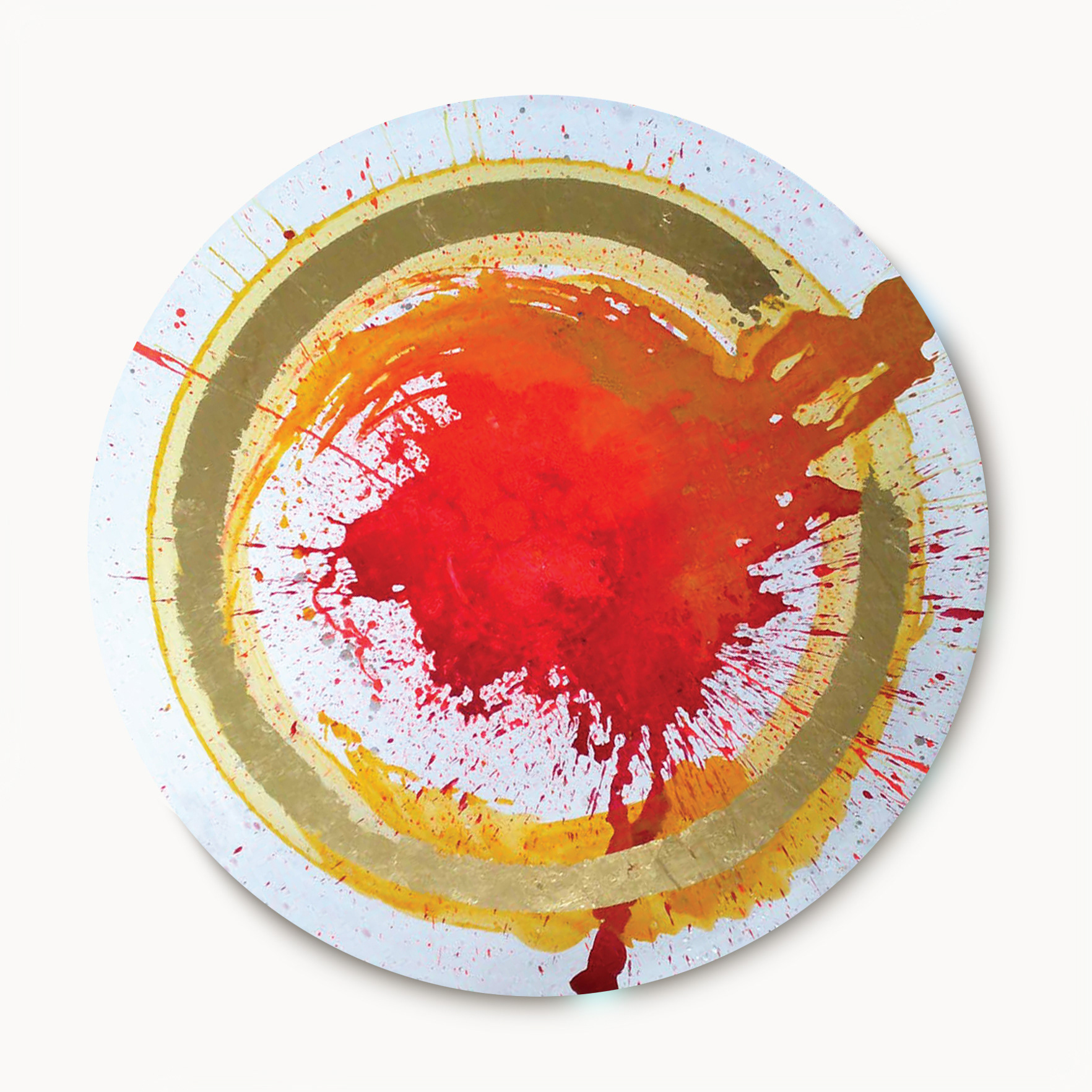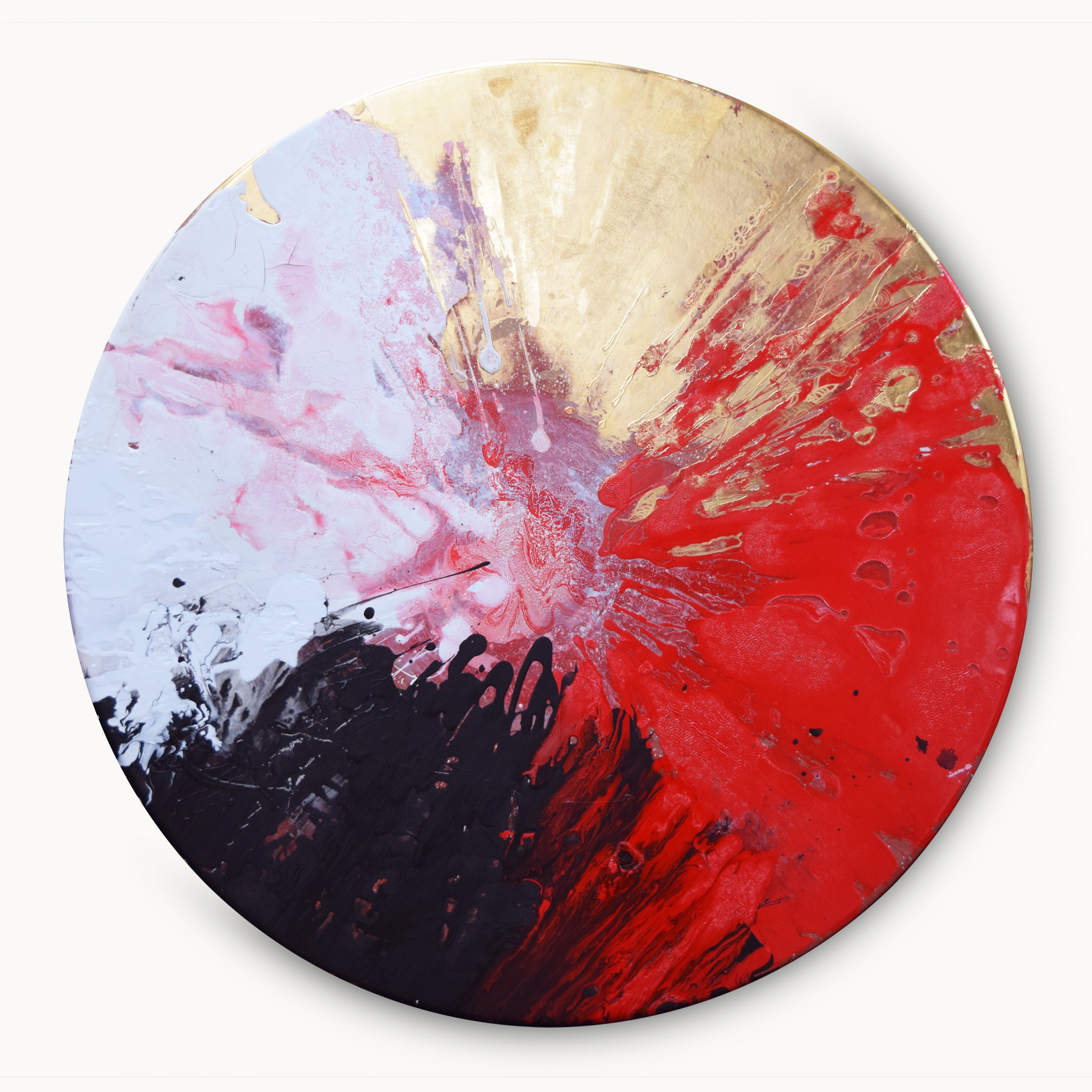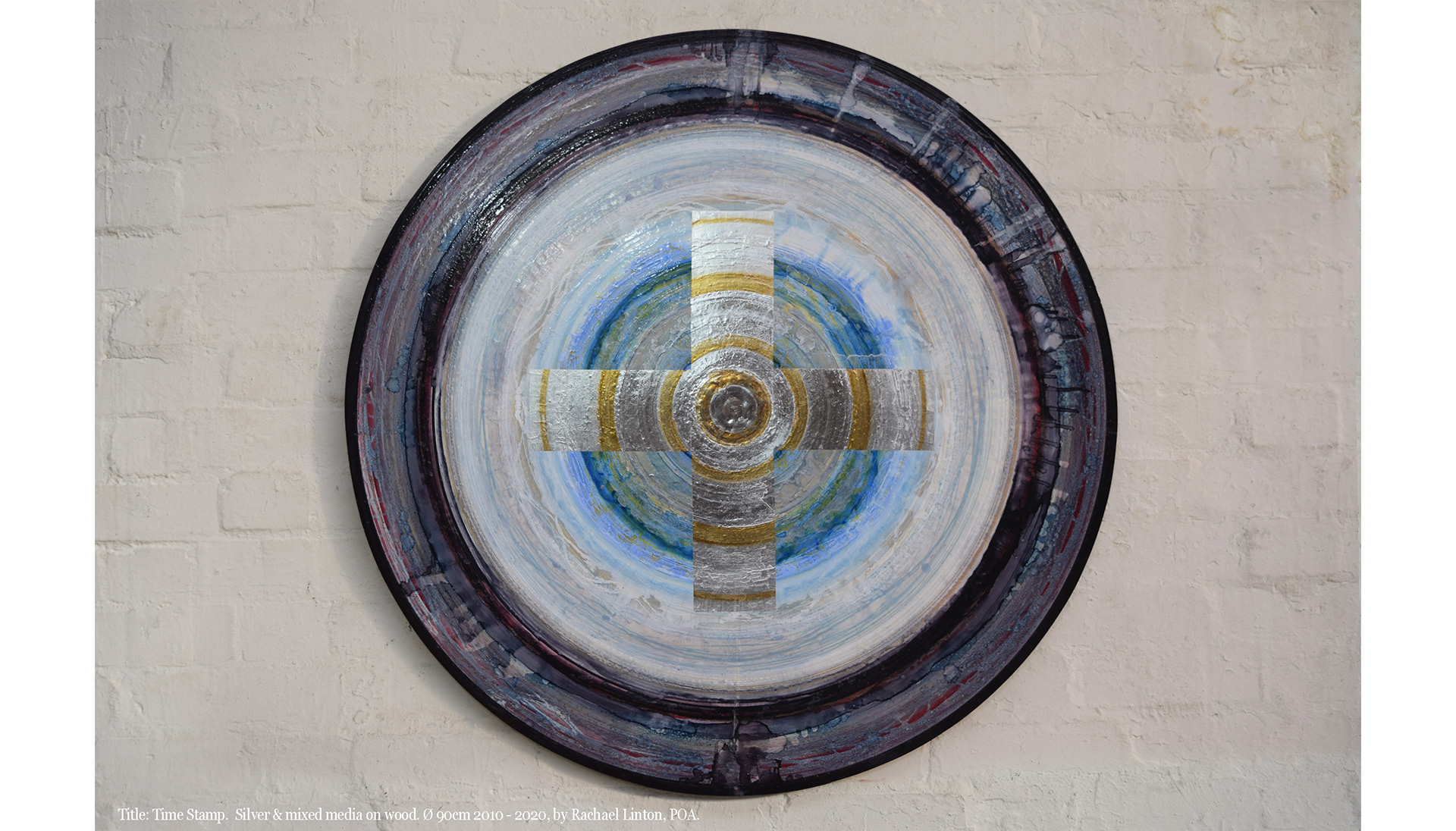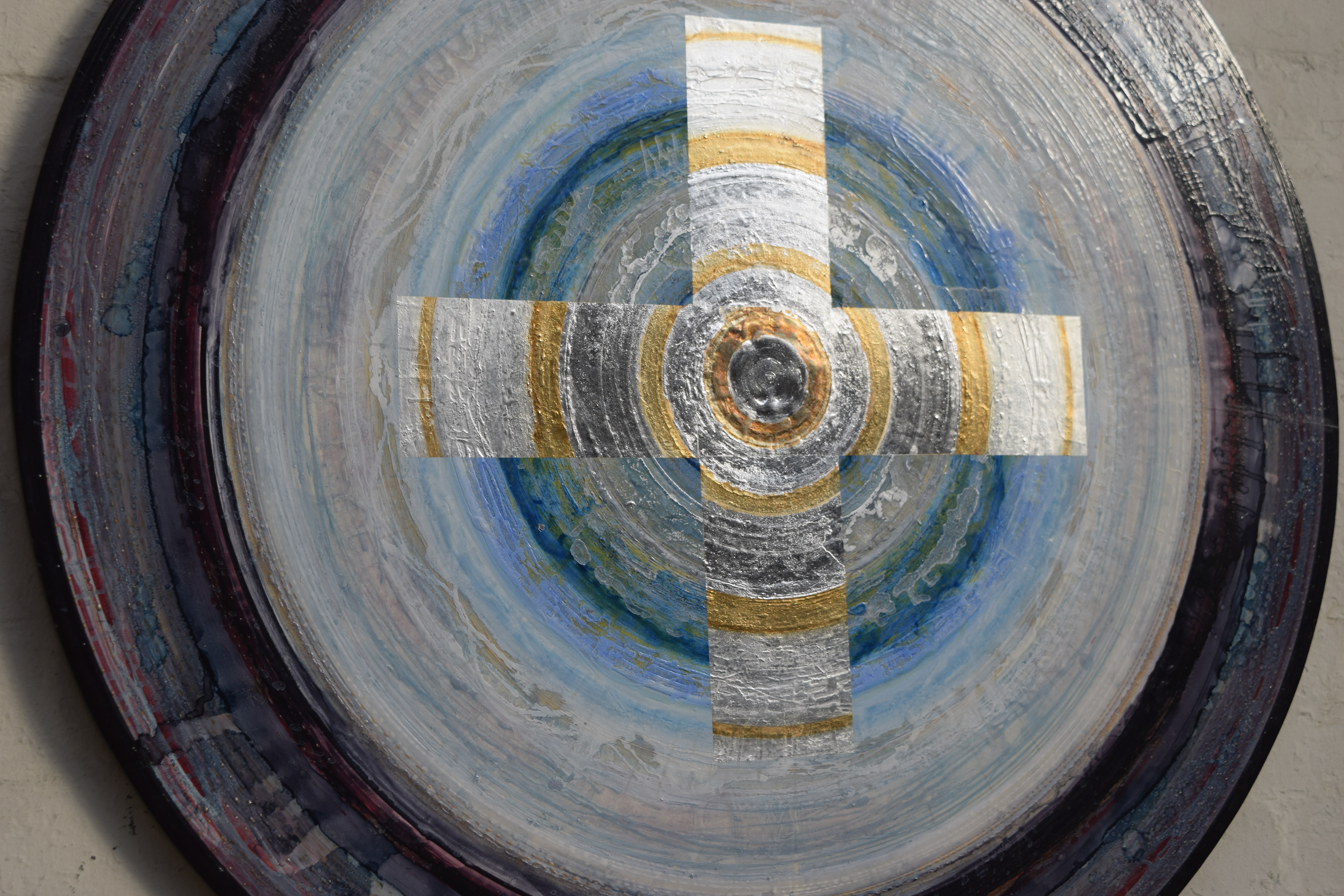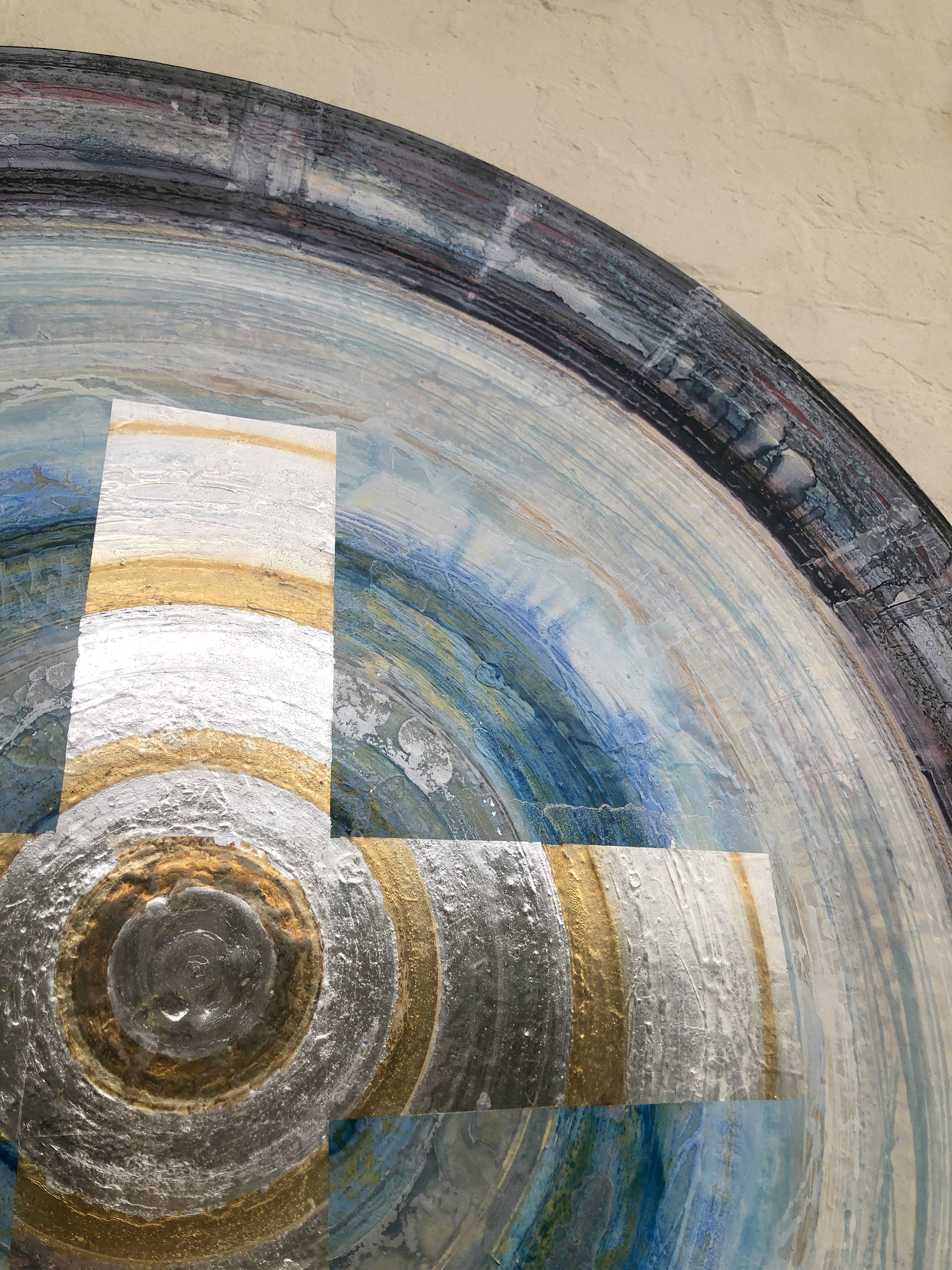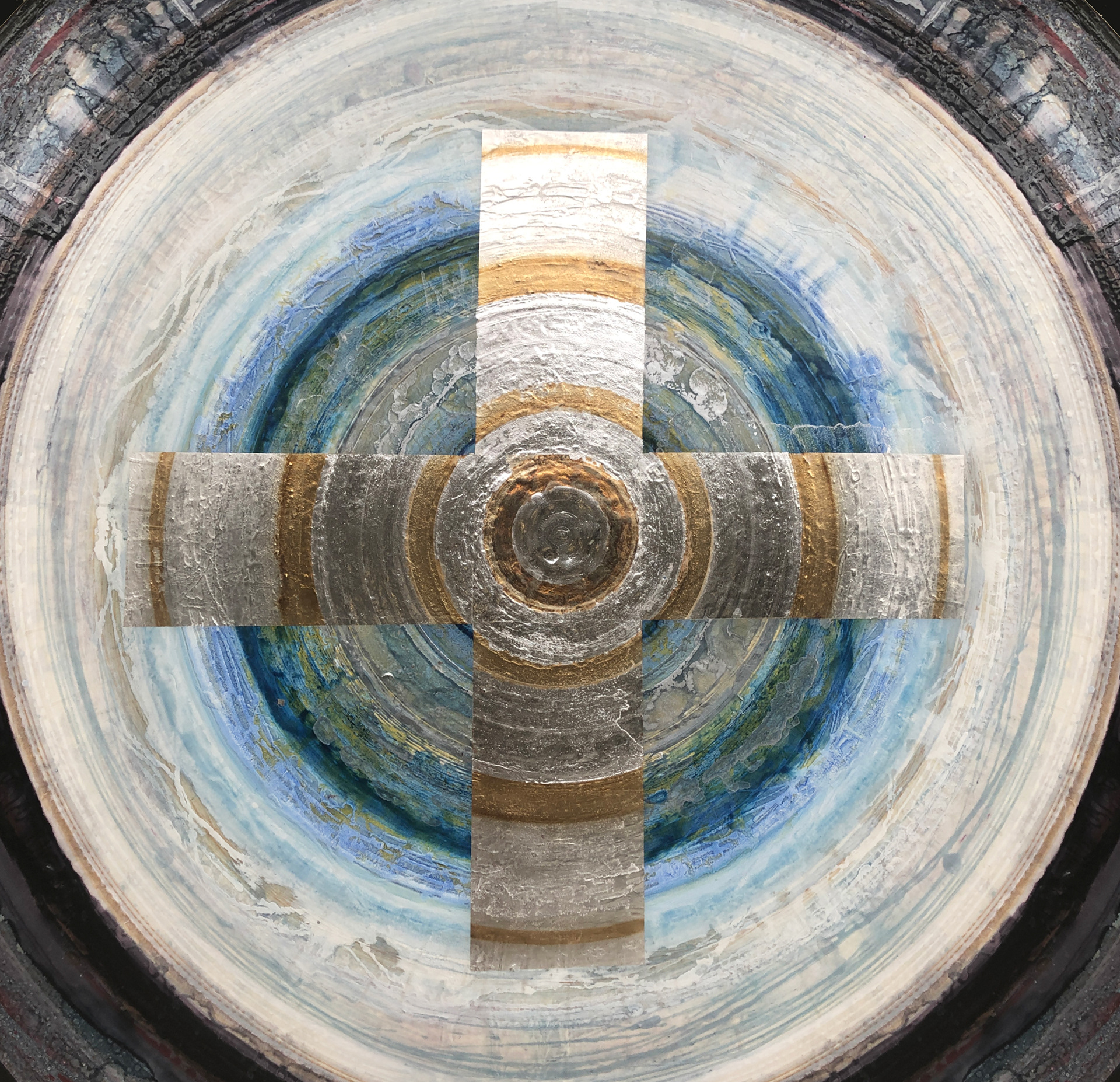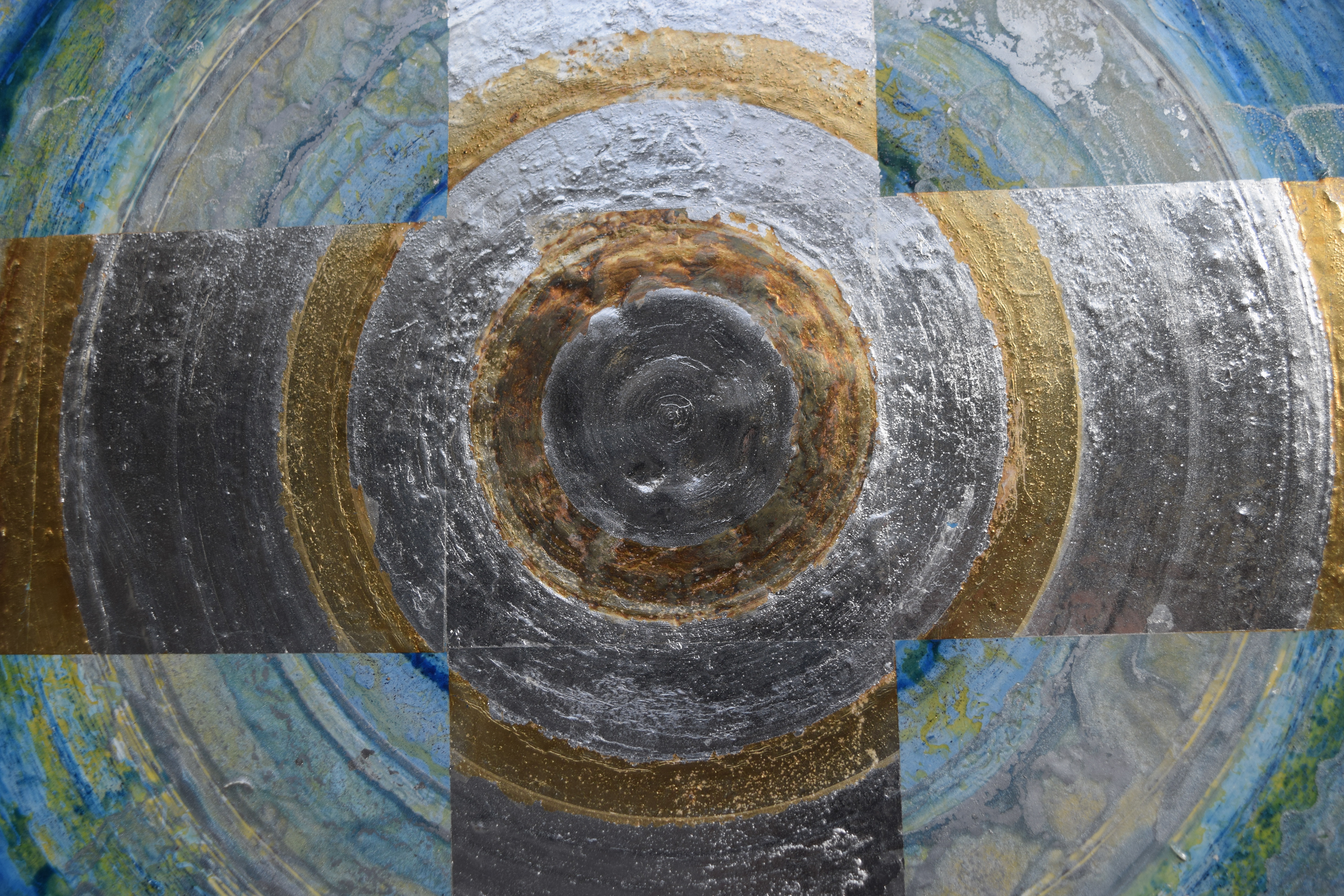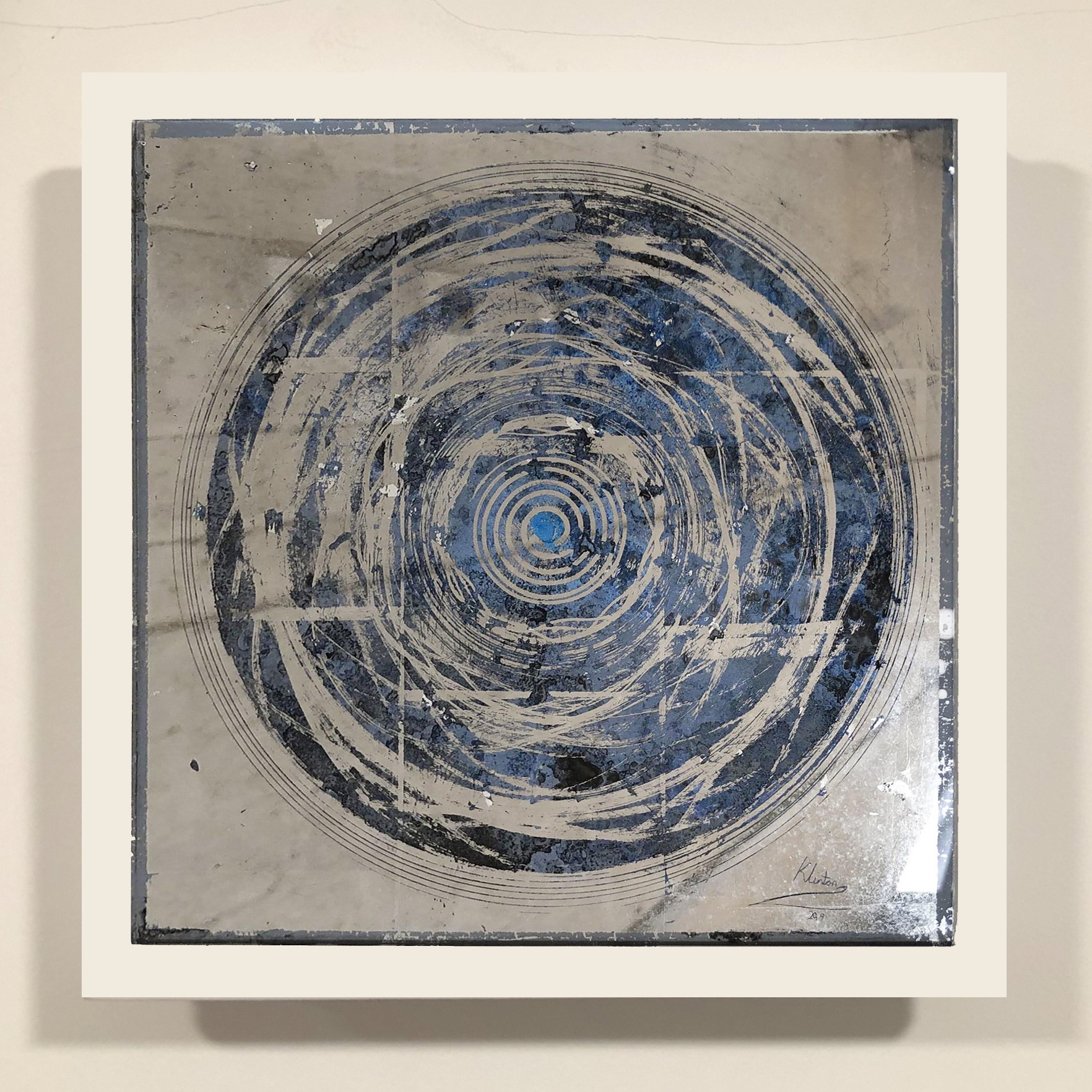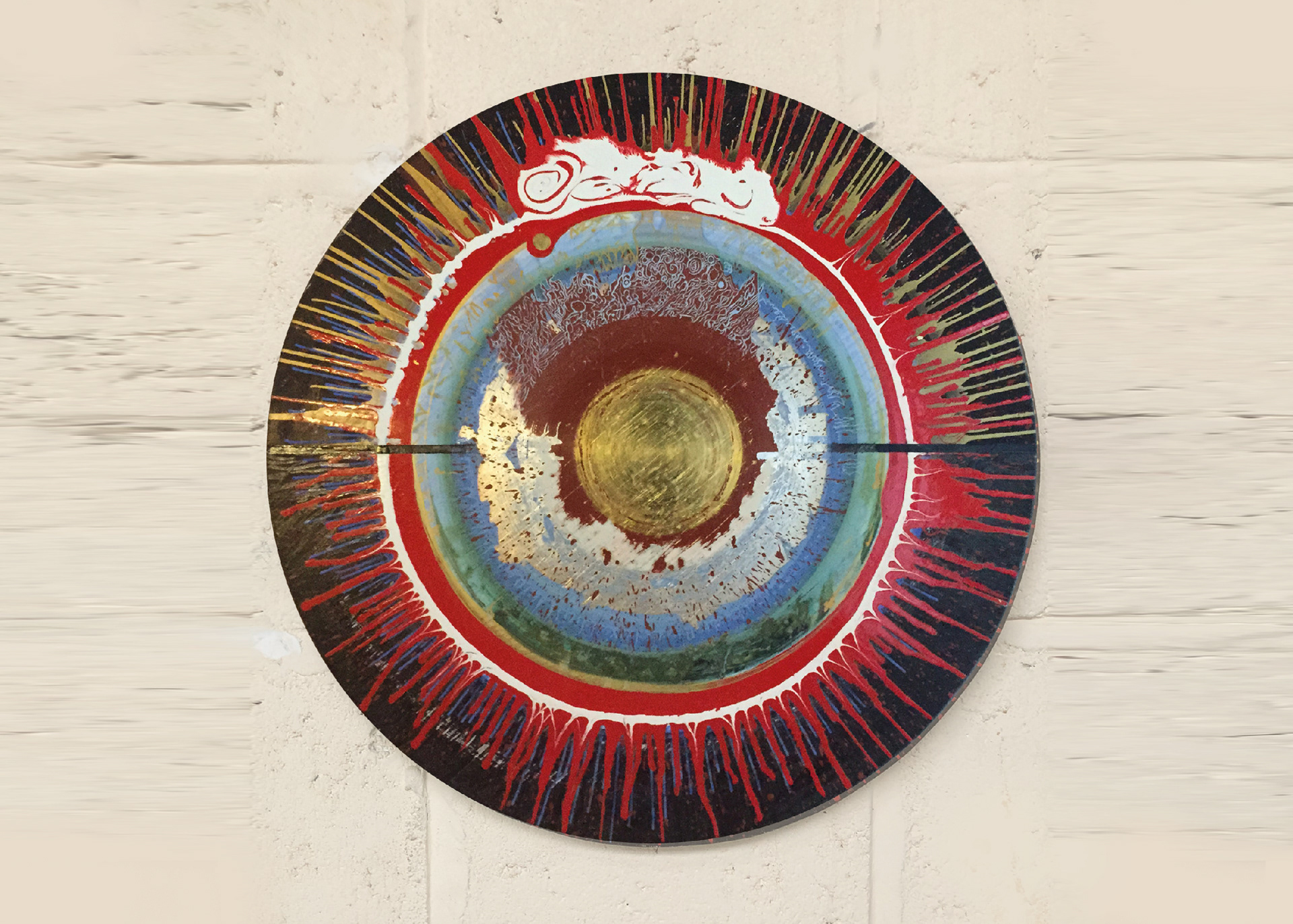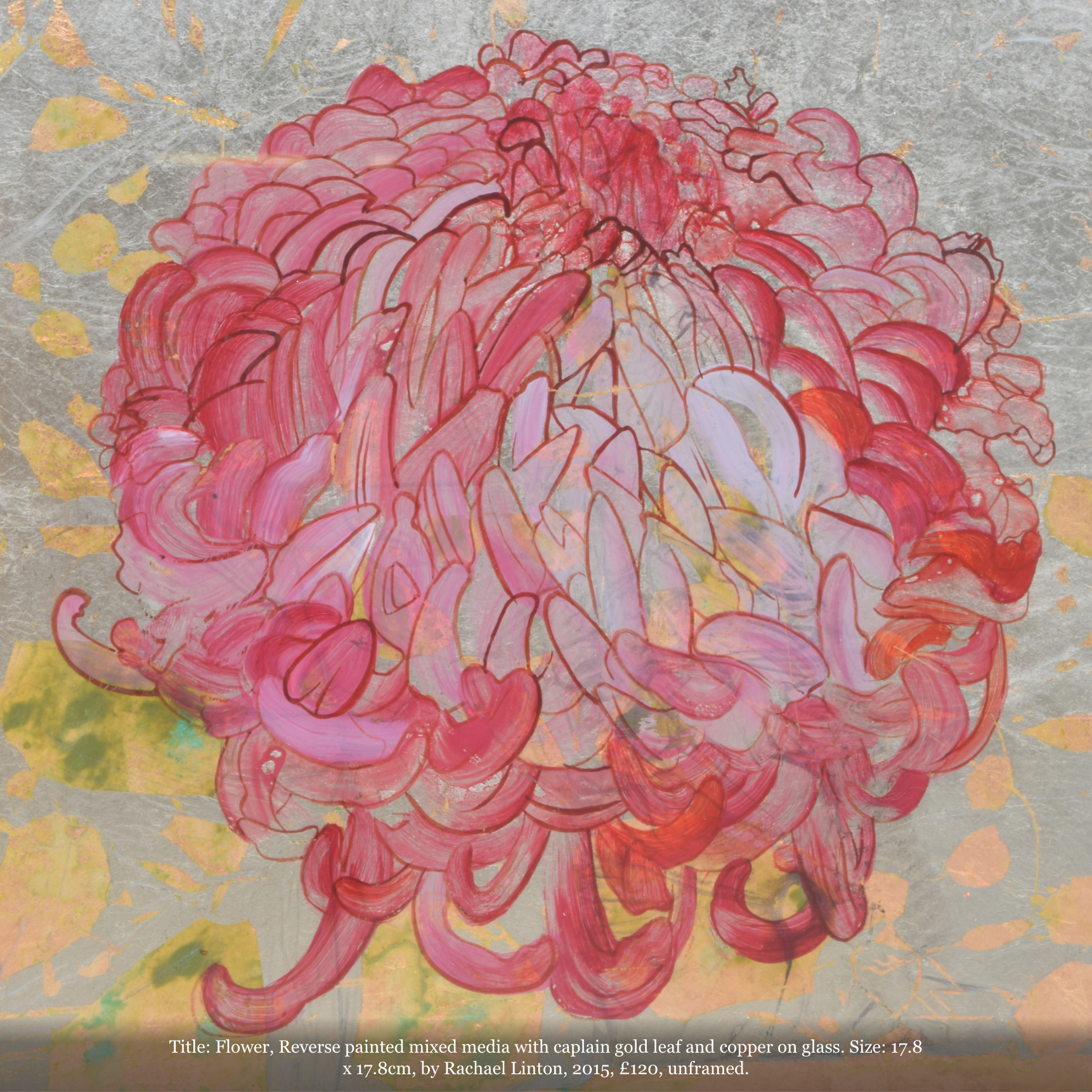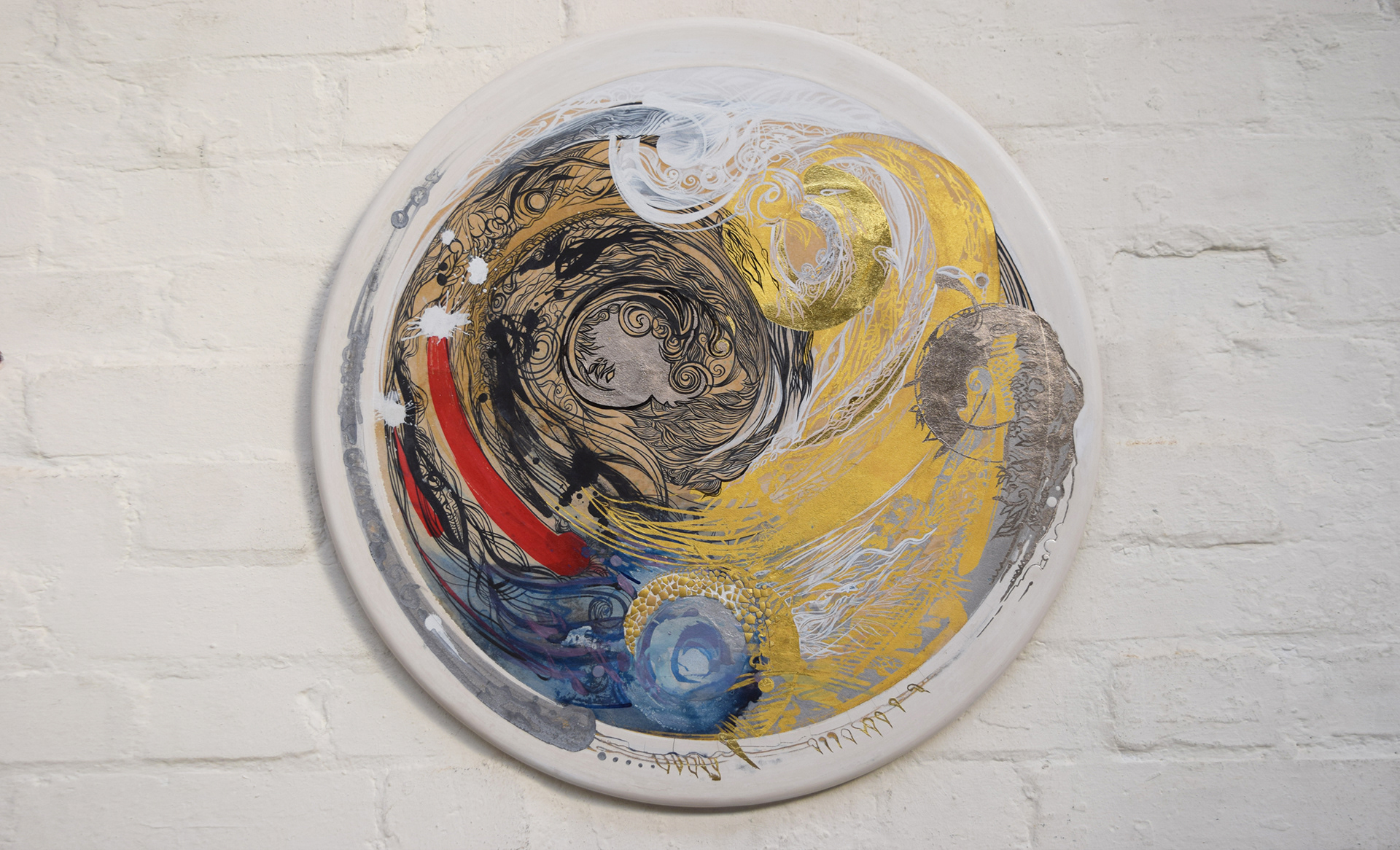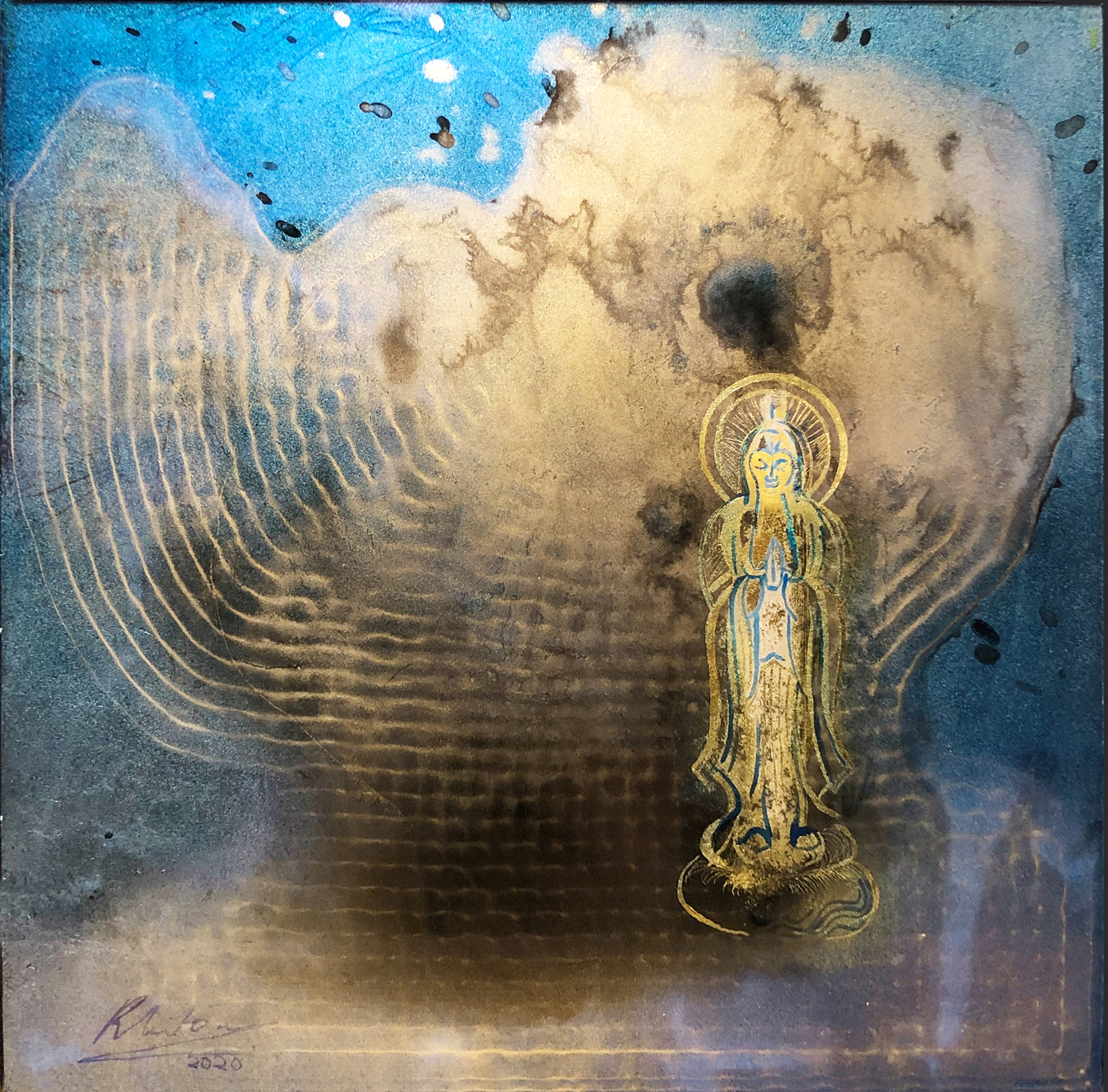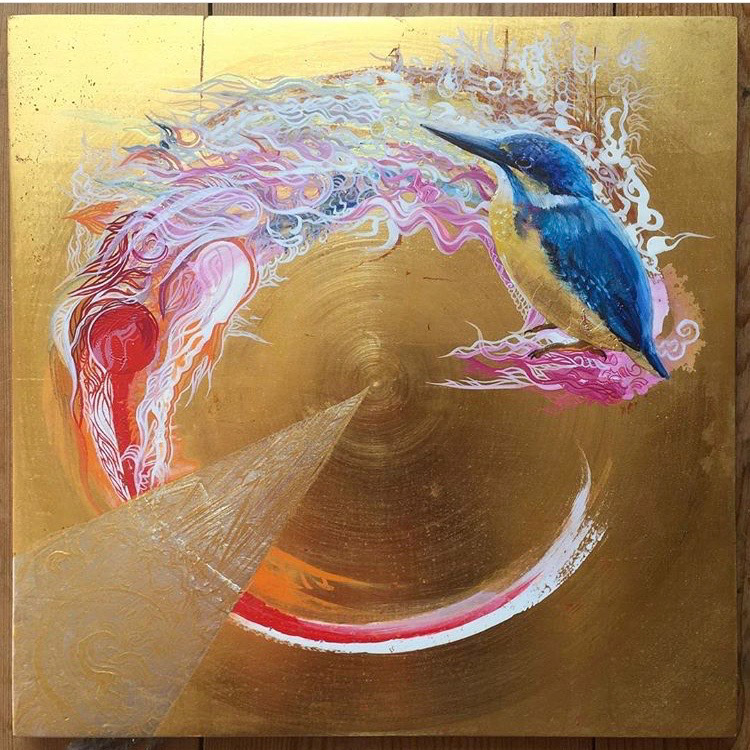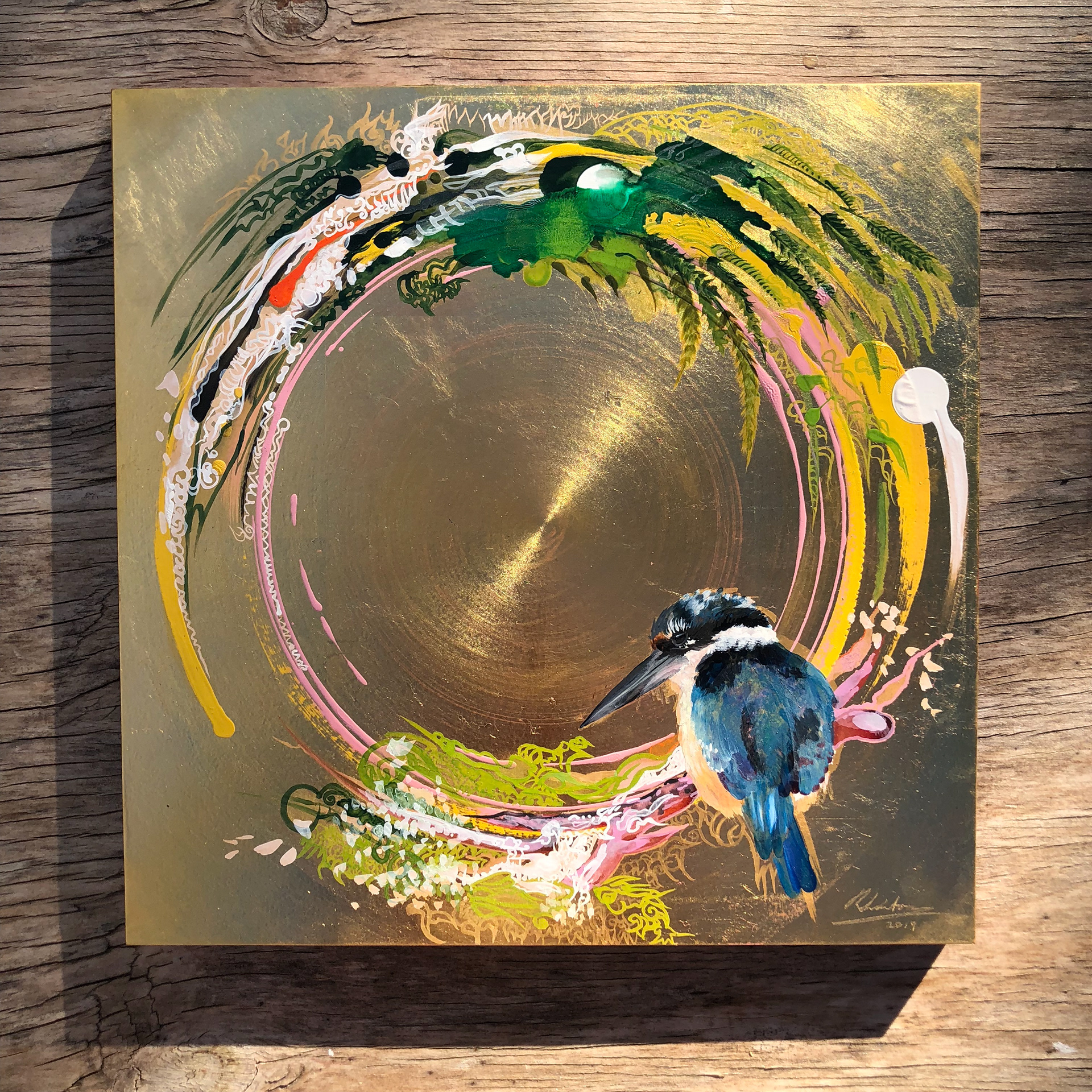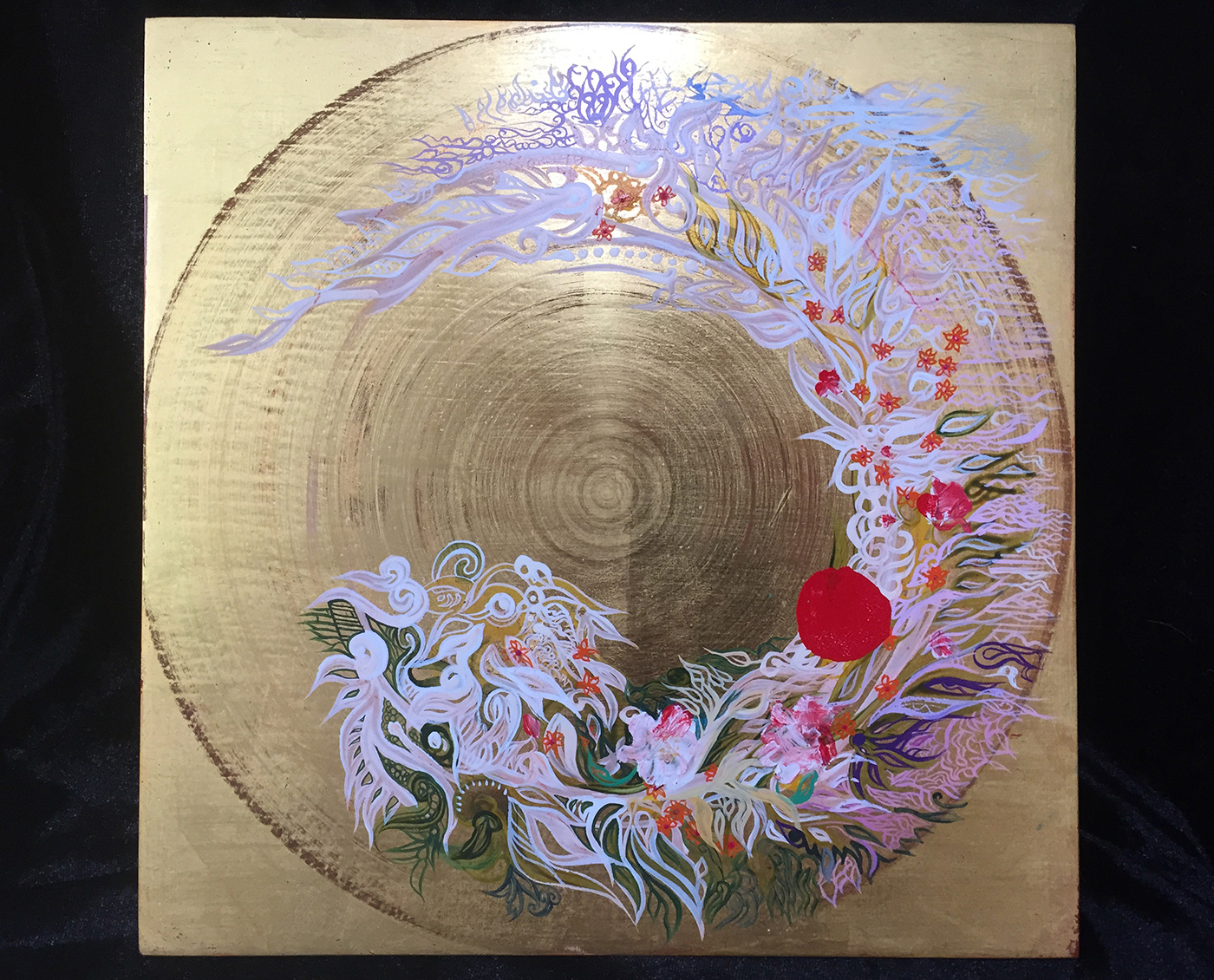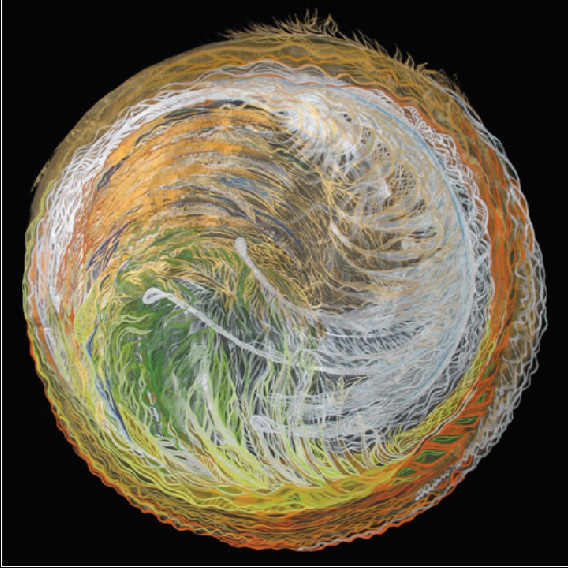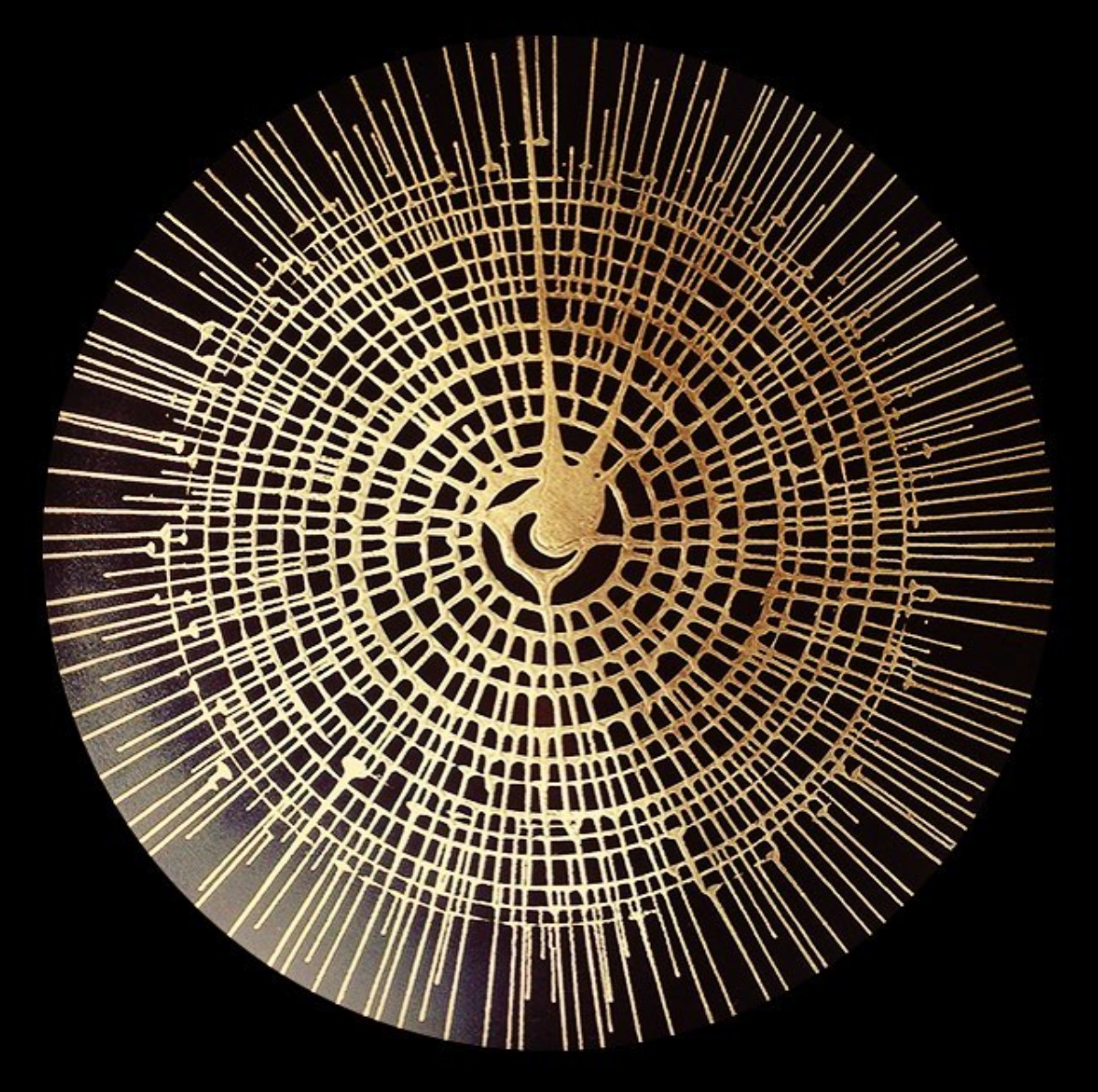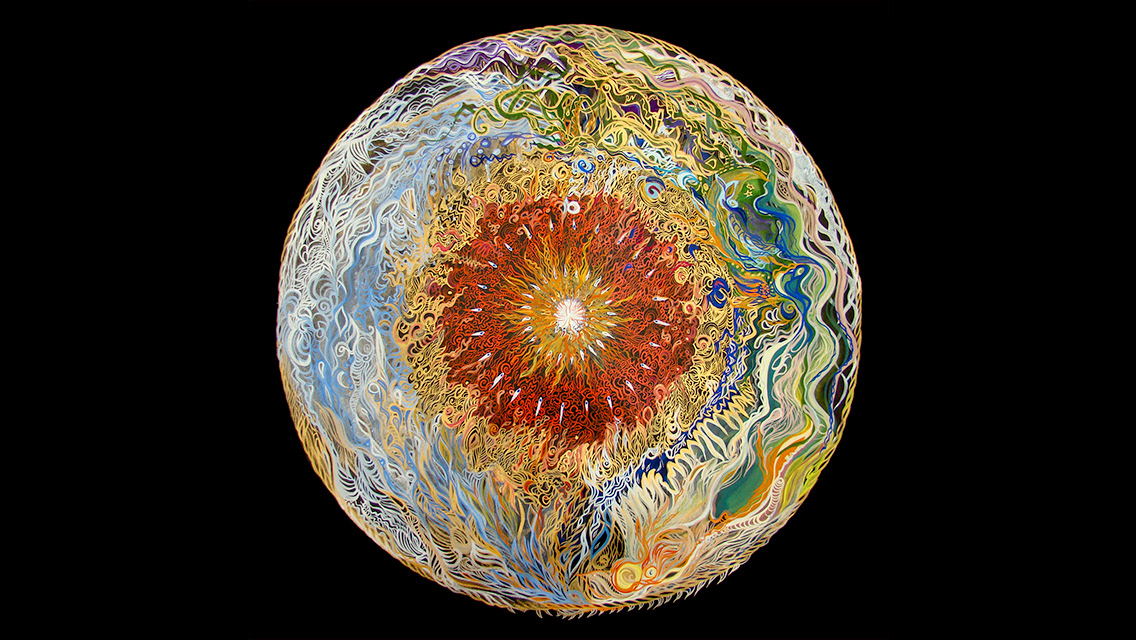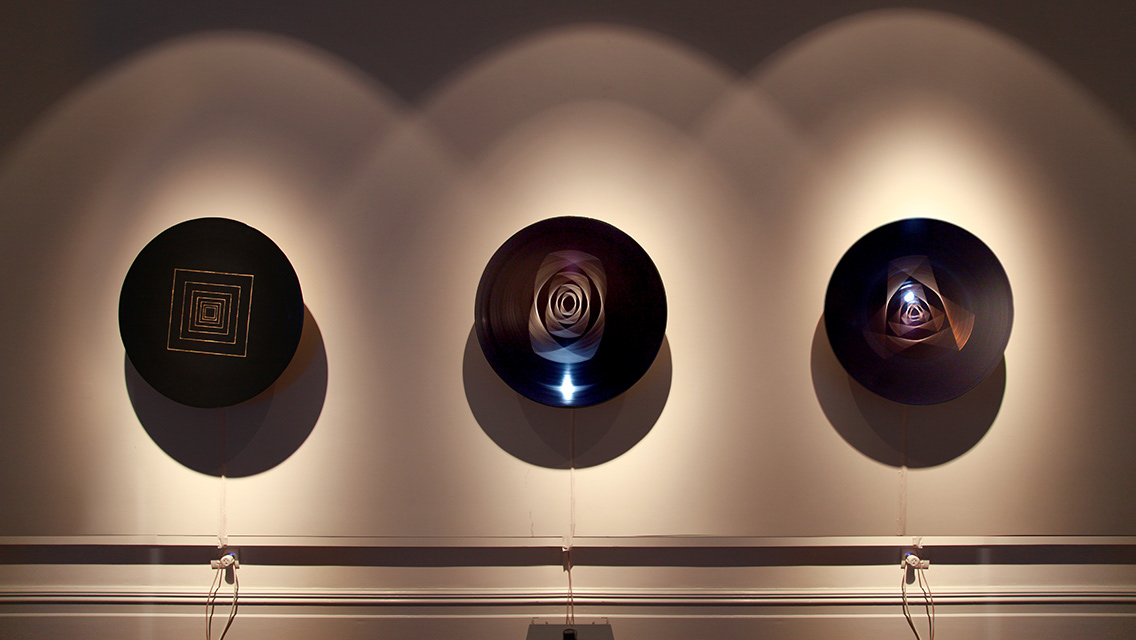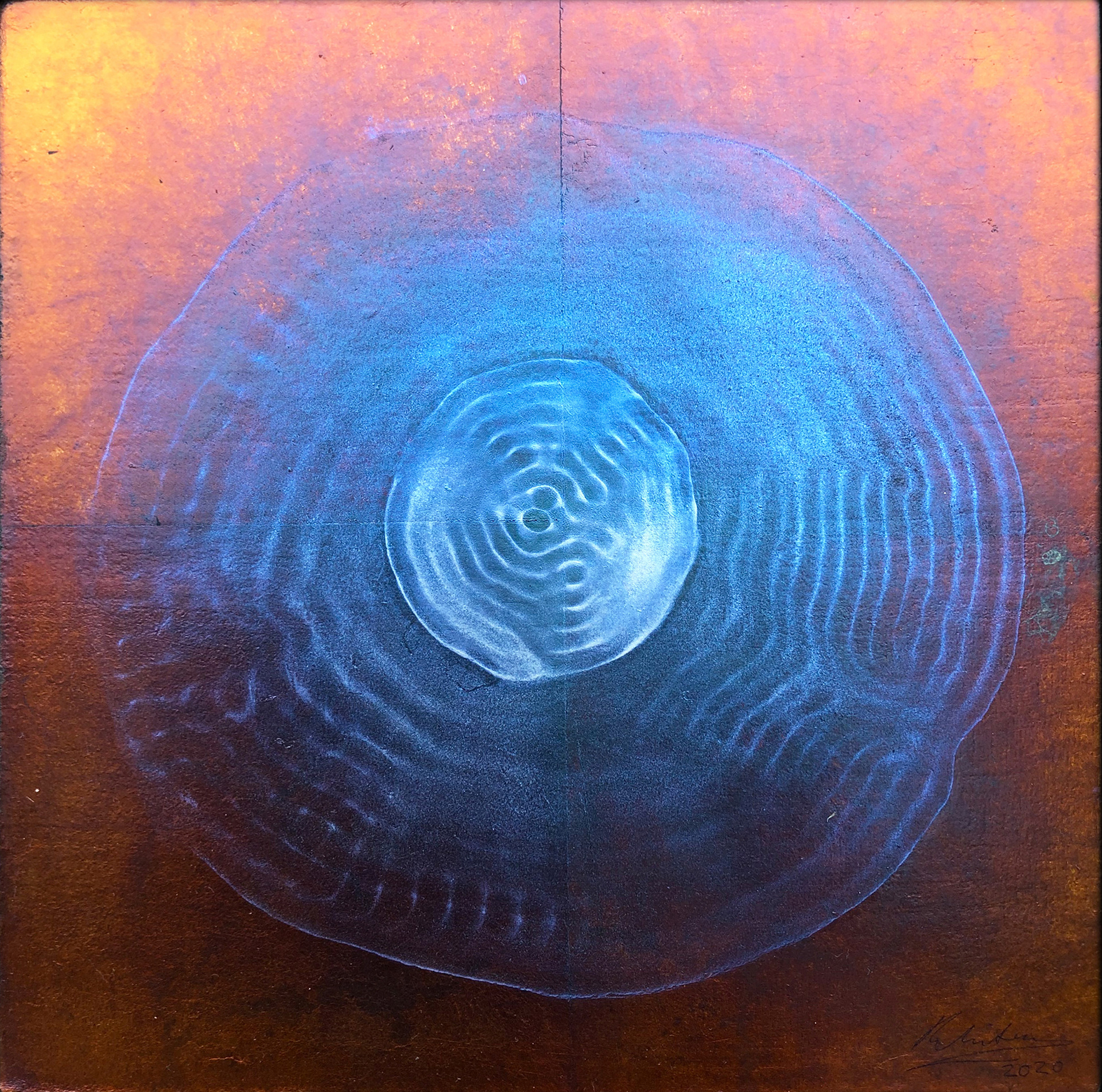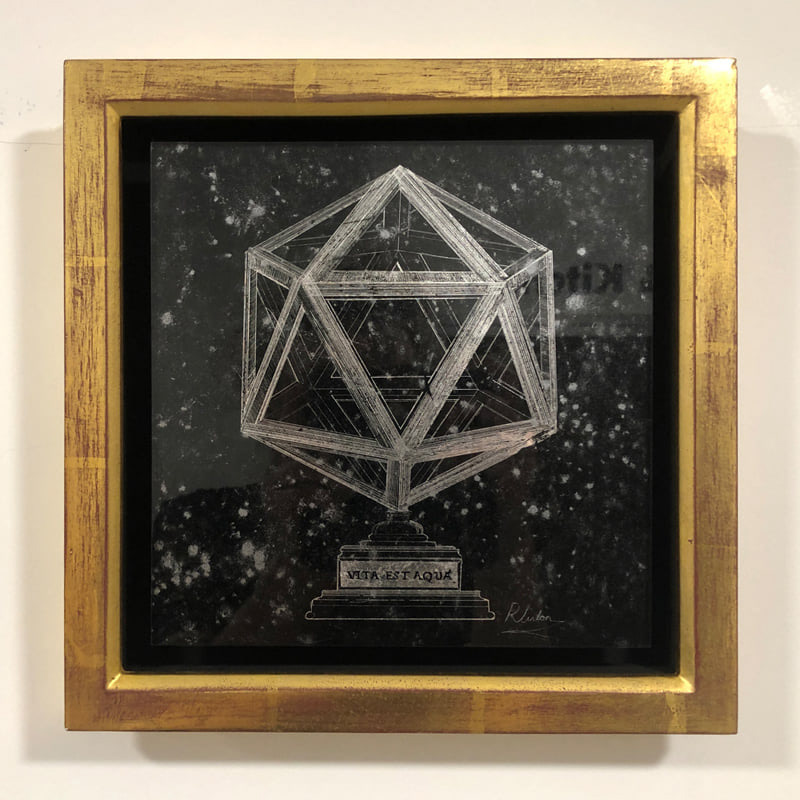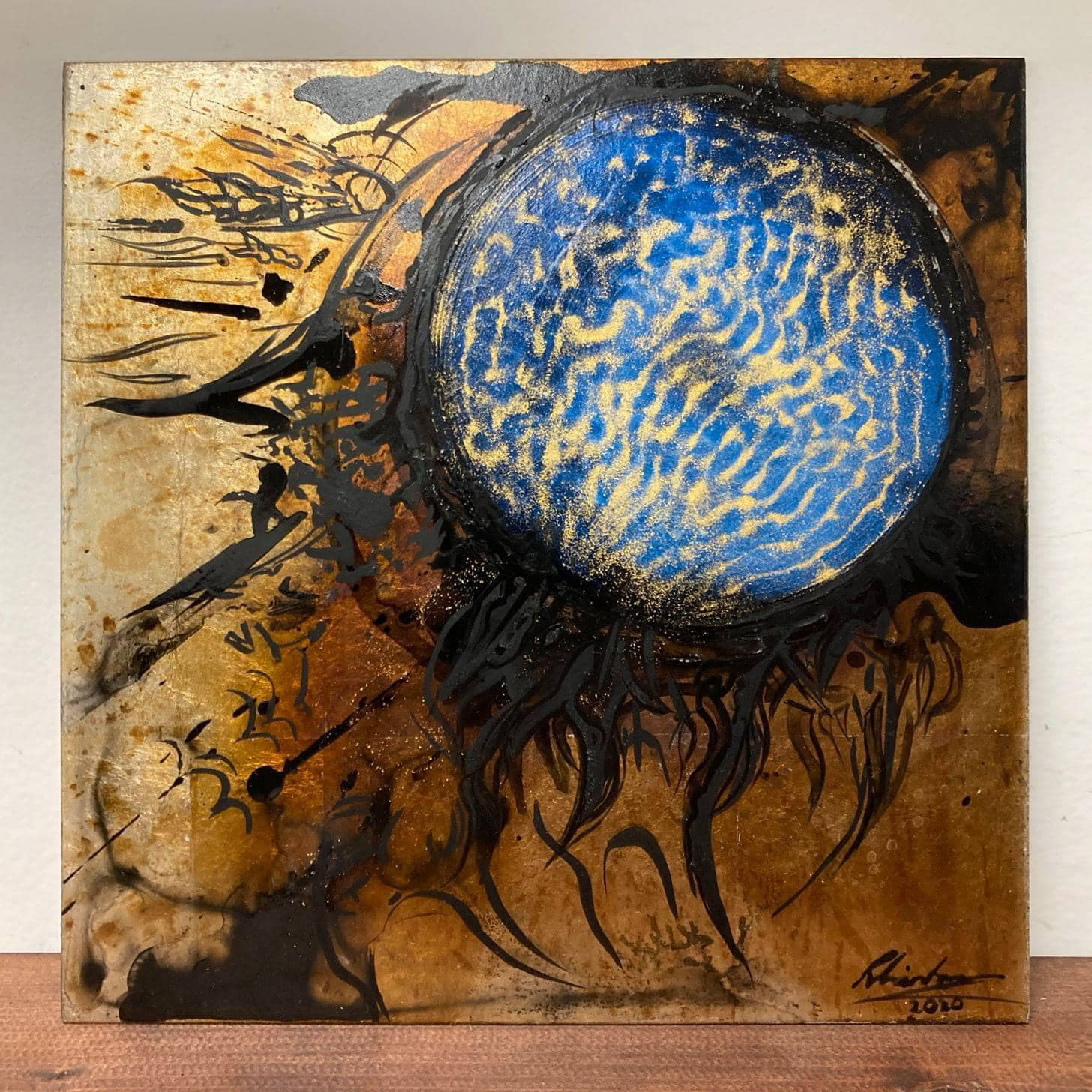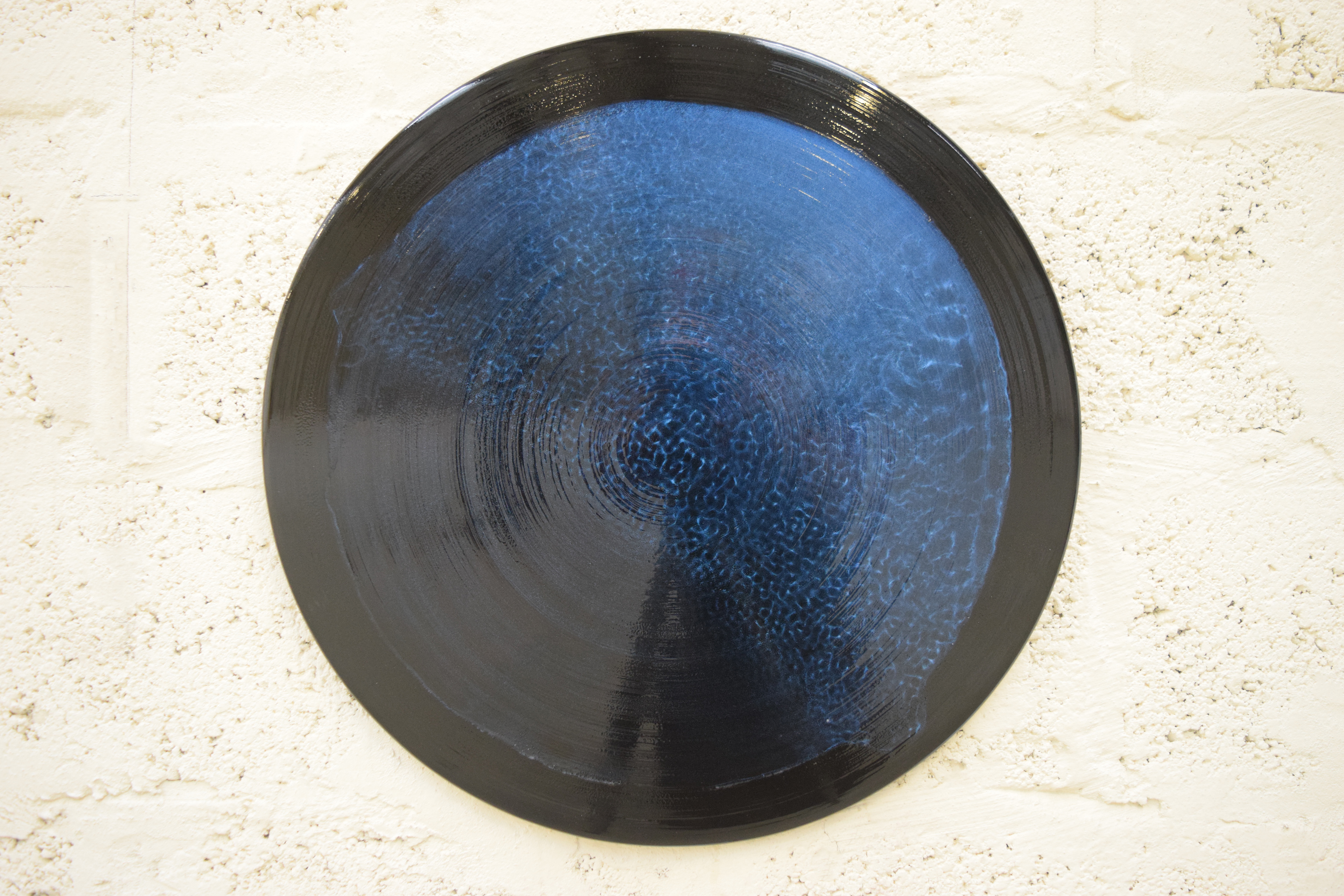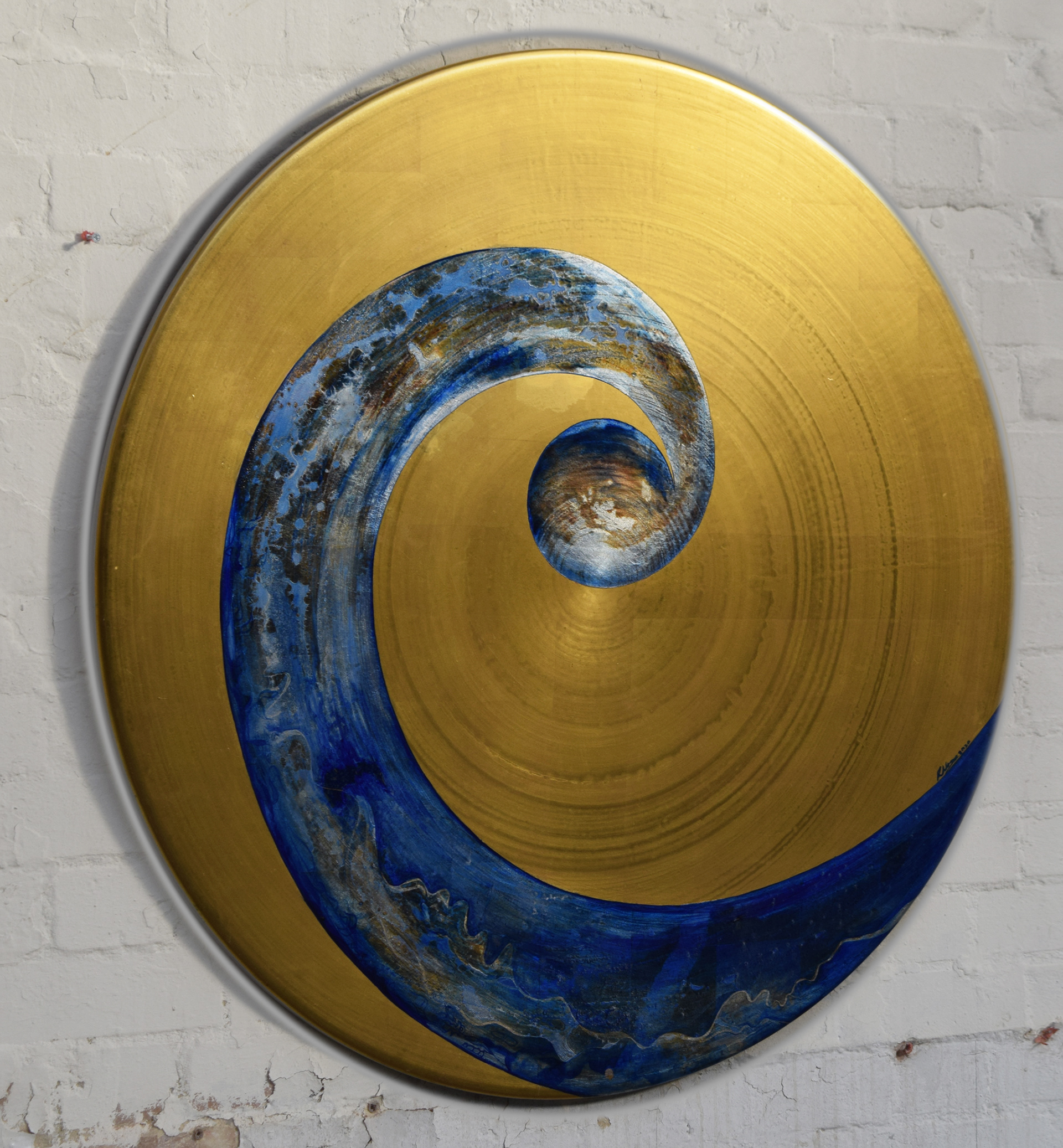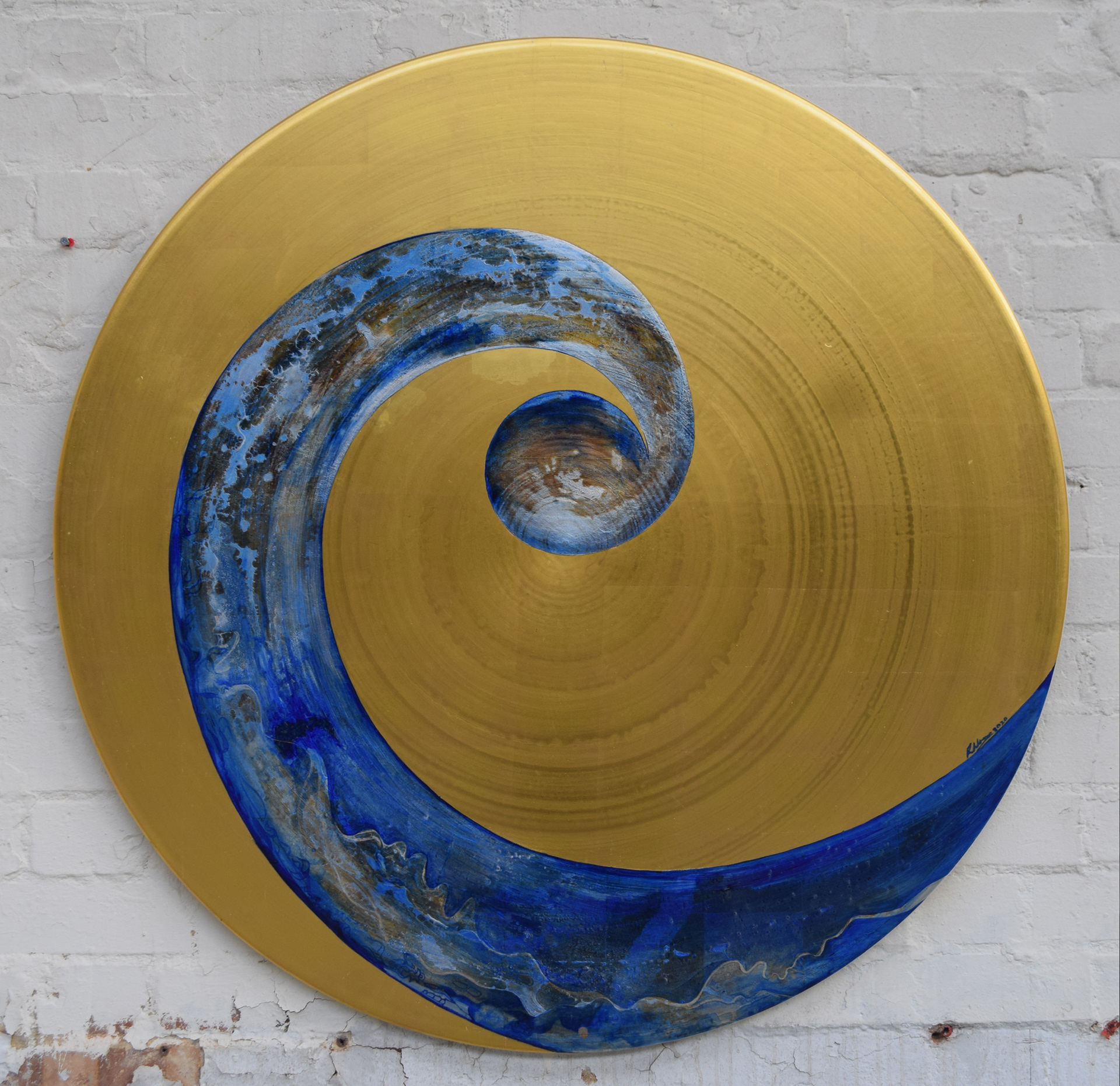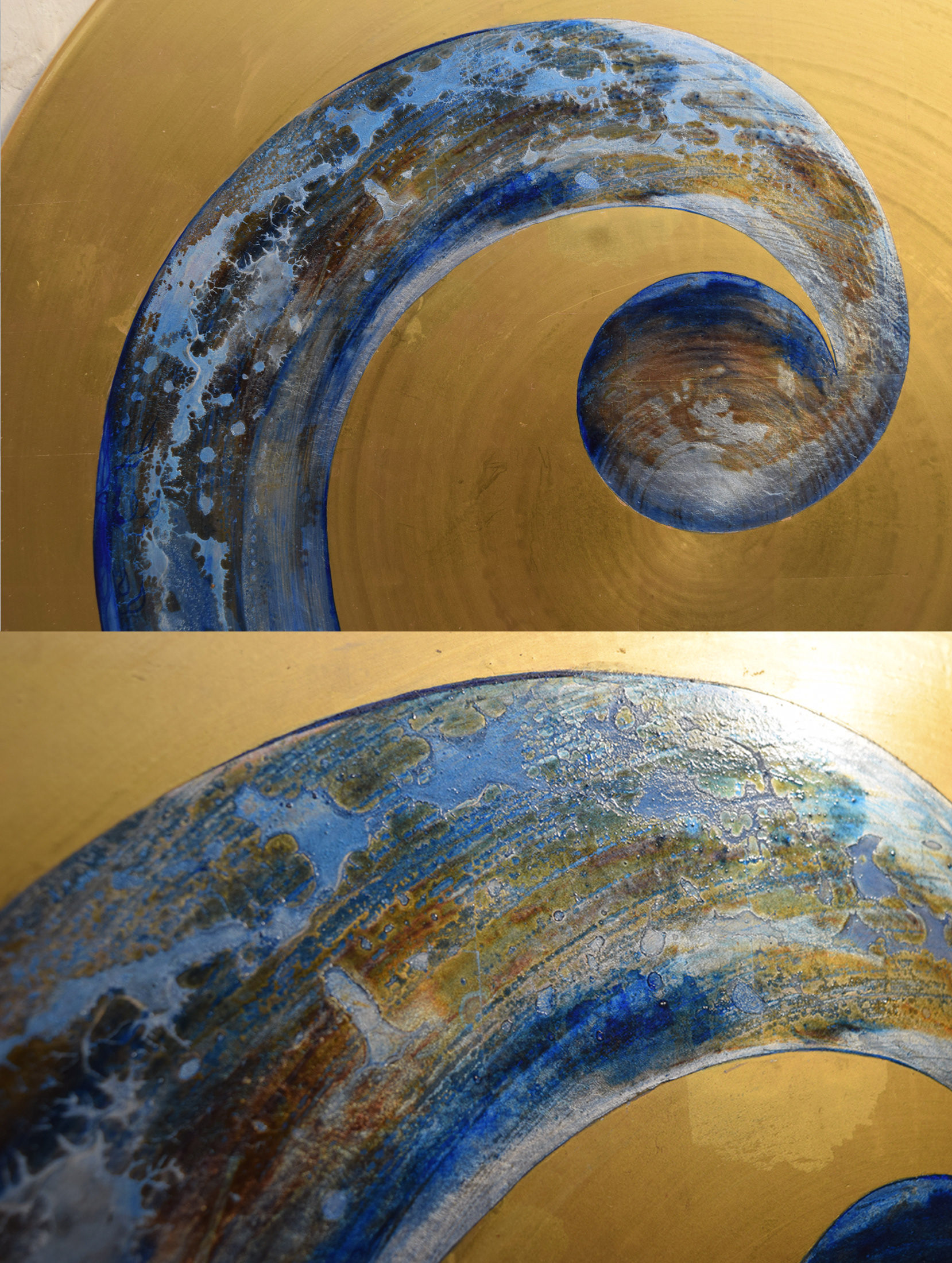 A fine hand and precise eye handcrafts these radiant paintings on wood with
genuine precious metal leaf and oil painting. Inspired artworks Japanese brush and Chinoiserie designs Rachael paints with a free and abstract style. Her pieces are sometimes very cosmic and at other times incorporate detailed flora, fauna and abstract nature scenes. Techniques from traditional lacquerwork, gold leaf, dust and patinas form the alchemical mix where every stroke of the brush creates a mystery of reactions. Rachael uses sound vibrations called cymatics to make her art and has recently discovered how to solidify these patterns onto plate glass and art panels. 
Exploring how  colour and light can be therapeutic upon a viewer, to bring calm and serene into peoples homes and workplaces is a topic Rachael is inspired b . Her mandala like circular pieces with gold and silver reflect radiant light around the room are great for the mindful soul. For 10 years Rachael's artworks her artworks have been created to assist with meditation.
The circles and radial shene of her paintings help to bring focus and creativity to the mind of the viewer to encourage health and wellbeing.
Exhibition History
2020 - Medicine Festival - The Golden Water Gong with levitating ceiling for projections. Interactive Kinetic art.
2019 - Delta House Open Studios, Golden Water Gong, Kinetic Art and fine art, group show.
2019 - Birdwood House, Totnes - Solo fine Art exhibition.
2019 - Into the Wild, - - Golden Water Gong, Kinetic Art
2019 - Breaking Convention - Golden Water Gong, Kinetic Art
2018 - Magical Woods festival. Installation of the first rendition of my interactive kinetic art installation, the Golden Water Gong, in the trees, day and night.
2018 - Heritage Craft association - 45min film & trailer made of me teaching gilding on the back of the Cutty Sark as part of the Endangered crafts 'Red List' movement.
2018 - Wells Cathedral & St Albans Cathedral were two of the seven destinations of 1066 - A Medieval Mosaic Exhibition Tour.
2018 - Worshipful Company of Goldsmiths - Teaching Gilding.
2018 - Totnes and Dartington Open studios
2018 - Oxford open Doors with 1066 - A Medieval Mosaic.
2017 - Kinetic art sculpture of my interactive 'Golden cymatics gong bath' at several outdoor festivals.
2017 - The Psychedelic Society, Cyberdelics Incubator, Lecture on the development of my VR Digital therapy.
2016 - 950th Anniversary of the Battle of Hastings in Hastings - A Medieval Mosaic, Guinness World Record, A recreation of the Bayeux Tapestry. Collaboration by father and daughter team, made of 3million tiny pieces of steel,  
a 33 year artistic odyssey. Please visit www.medievalmosaic.com to see the website of this true masterpiece. 
2015 - Astronomy Fair - Marbling Cymatics, art display and teaching the properties of Cymatics to the public.
2015 - STEM Big Bang South East, careers fair, cymatics art display demonstrating cymatics and what its like to be a full time artist for a living to 9-19 year school kids.
2015 - Mind Body Spirit Festival, Olympia, London - Crystal Cymatics, Digital media fine art, live video immersive installation in collaboration with sound healer Tiffany Keywood and the Soul Dome 360° immersive Cinema.
2014 - Kinetica, Old Truman Brewery, London - Aura Illuminator, Interactive Digital art installation in which the viewers experienced their aura in a hand painted mica black mirror.
2014 - Brighton Digital Festival, The New Sublime. Phoenix Gallery, Brighton - Cymatics Response, Digital art installation, technical collaboration.
2014 - Digital Art Gong Show, Phoenix Gallery, Brighton, Speaking about my digital art and cymatics film therapy.
2014 - Kymatic Konference, Black forest, Germany - A multinational conference. I was interviewed about my art and research for a cymatics documentary by world expert in the field, Jeff Volk.
2014 - Mind Body Spirit Festival, Olympia, London - Painting exhibition
2014 - Brighton Digital Festival, Zu Studios - Sounds Holographic, Multimedia performance and Kinetic Art installation with gong bath and live cymatics translation. Presented inside the Soul Dome 360° immersive Cinema.
2013 - Brighton Fringe Festival, Brighton, Jubilee Square,
Eon Solace - Collaboration with Sound healer Rowan Sterk and the Soul Dome 360° immersive Cinema.
2013 - The Omnia Scroll Exhibition in Venice - Gold and Silver fine art prints, now in private collection.
2012 - TSB Bank Wallace Arts Trust, Pah Homestead, New Zealand, Solo exhibition of gilded paintings in pure gold, silver & copper. 6 artworks in the private collection of Sir James Wallace.
2008 - Masters exhibition of Digital Art and Thesis 'Sound Vision'. Could the Visual form of sound be therapeutic?