Title:  Decentralised
Media: Genuine silver, platinum, palladium & mixed media on wood.
Size: Ø 120cm
by Rachael Linton, 2020.
Price: £2200 / €2600     (excl. postage)
Title:  Wishing Flower
Media: Mixed media, enamels, and gouache on wood.
Size: Ø 110cm
by Rachael Linton, 2011.
Price: £1200 / €1430   (excl. postage)
Title: Time Stamp
Media: Silver & mixed media on wood.
Size: Ø 90cm
by Rachael Linton, 2010-2020.
Price: £1800 / €2100     (excl. postage)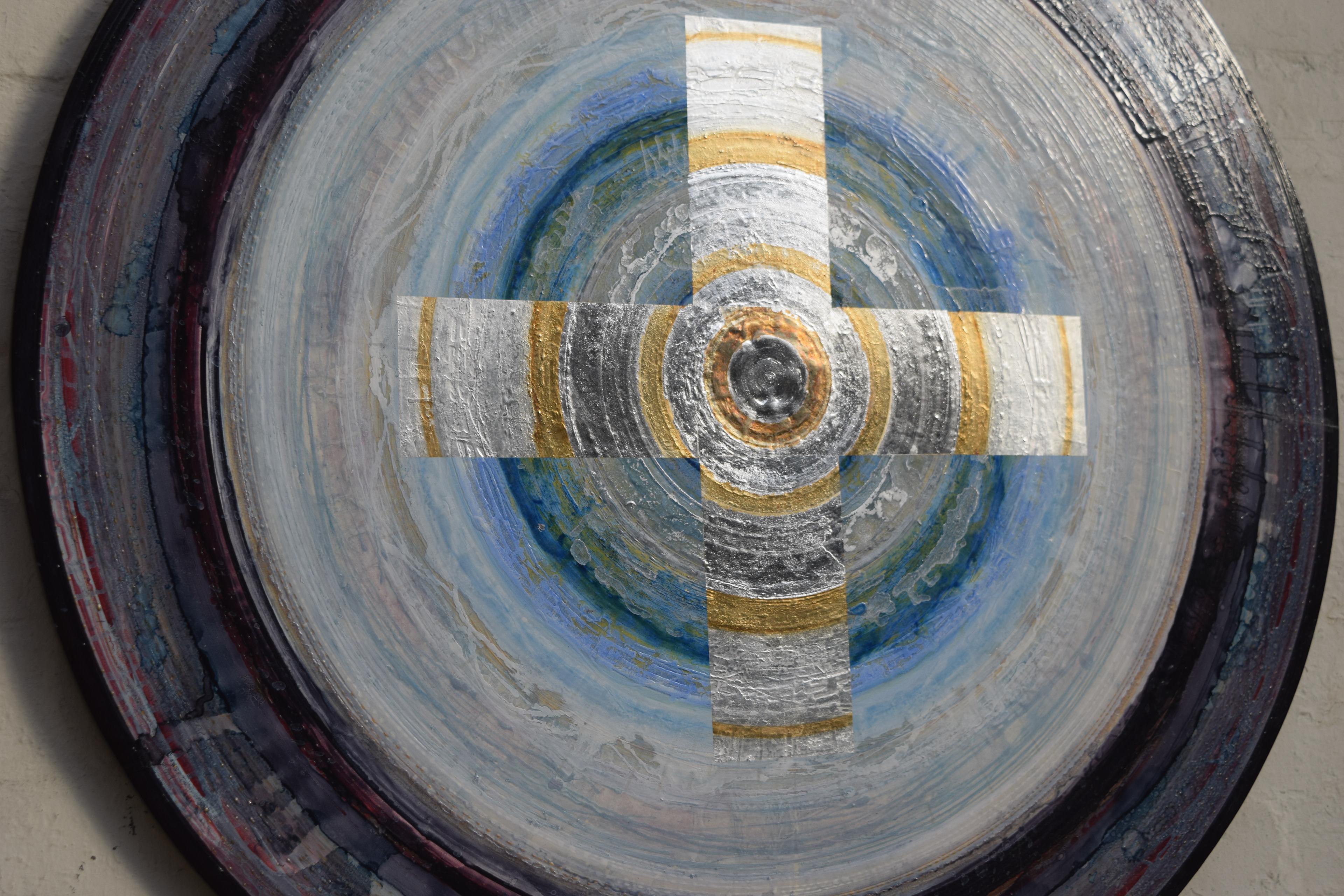 1. Higher Heart, Mixed Media and genuine gold leaf on Board, Ø90cm, 2013. 

Price: £1800 / €2100     
2. Apocalypse, Mixed media & dutch gold leaf on wood, Ø 90cm, 2011. Price: £1800 / €2100     


3. A Creation Story, Mixed Media and genuine gold leaf on Board, Ø 90cm, 2011. 

Price: £1800 / €2100     
4. Changing in the Light, Mixed Media and genuine gold leaf on Board, Ø 90cm, 2011. Price: £1800 / €2100     
Commissions based on previous works will also be considered.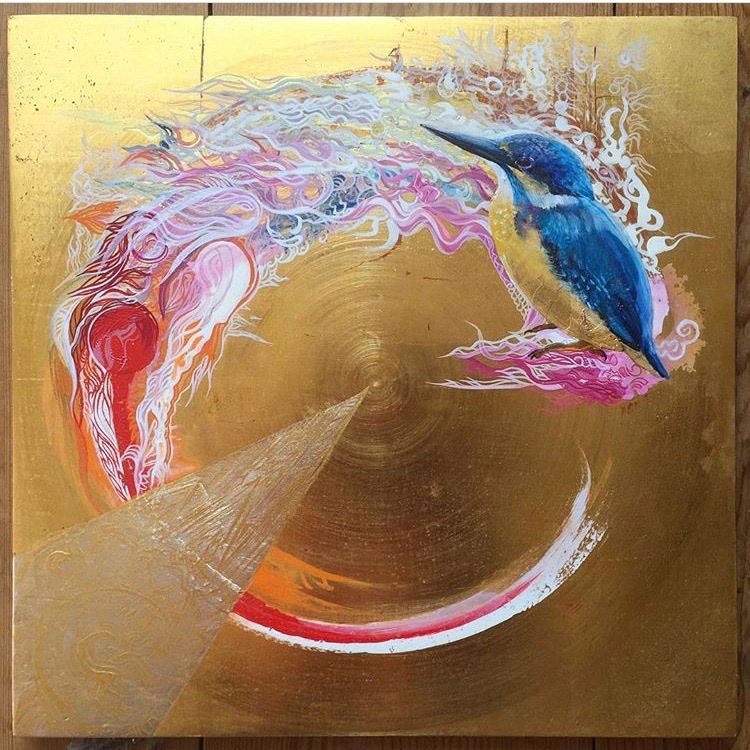 Rachael Linton crafts these radiant and resonant paintings with a steady hand and precise eye for detail.
Inspired by japanese brushwork, traditional raised gesso lacquerware, and chinoiserie mural design, she has practiced these techniques to incorporate those traditional methods into her own free and abstract style. In her early years she studied medieval history and illuminated manuscripts which gave her an appreciation for fine traditional craftsmanship, while further training in the traditional techniques of gilding, verre eglomise  (gilding on glass) and furniture restoration taught her how to create artworks that will last the test of time. Her pieces are both cosmic and otherworldly while at other times incorporate detailed flora and fauna. She paints with gold and other precious metal leaf, gold dust, as well as genuine metal leaf patinas, powders, oil paint, handmade glazes, varnishes, lacquers and more. She paints on glass for the luxury feel and wood pannel. Every stroke of the brush reveals a little bit of mystery. Rachael also uses cymatics (sound made visible) to make art. She was the first in the world to discover how to solidify cymatics those patterns onto plate glass and wood art panels and since her discovery, she has featured in magazines, video documentary, and books about her gold gilding and innovative cymatics art techniques. 

Rachael values improvisation and intuitive painting, which allows an aspect of the unconscious and numinous, a state of cosmic consciousness, the infinite and forces of nature to enter her work. The paintings are something to meditate on, to spend time with and so see if they transport you to another realm of awareness, to balance calm or elation.
Exhibition History
2020 - Medicine Festival - The Golden Water Gong with levitating ceiling for projections. Interactive Kinetic art.
2019 - Delta House Open Studios, Golden Water Gong, Kinetic Art and fine art, group show.
2019 - Birdwood House, Totnes - Solo fine Art exhibition.
2019 - Into the Wild, - - Golden Water Gong, Kinetic Art
2019 - Breaking Convention - Golden Water Gong, Kinetic Art
2018 - Magical Woods festival. Installation of the first rendition of my interactive kinetic art installation, the Golden Water Gong, in the trees, day and night.
2018 - Heritage Craft association - 45min film & trailer made of me teaching gilding on the back of the Cutty Sark as part of the Endangered crafts 'Red List' movement.
2018 - Wells Cathedral & St Albans Cathedral were two of the seven destinations of 1066 - A Medieval Mosaic Exhibition Tour.
2018 - Worshipful Company of Goldsmiths - Teaching Gilding.
2018 - Totnes and Dartington Open studios
2018 - Oxford open Doors with 1066 - A Medieval Mosaic.
2017 - Kinetic art sculpture of my interactive 'Golden cymatics gong bath' at several outdoor festivals.
2017 - The Psychedelic Society, Cyberdelics Incubator, Lecture on the development of my VR Digital therapy.
2016 - 950th Anniversary of the Battle of Hastings in Hastings - A Medieval Mosaic, Guinness World Record, A recreation of the Bayeux Tapestry. Collaboration by father and daughter team, made of 3million tiny pieces of steel,  
a 33 year artistic odyssey. Please visit www.medievalmosaic.com to see the website of this true masterpiece. 
2015 - Astronomy Fair - Marbling Cymatics, art display and teaching the properties of Cymatics to the public.
2015 - STEM Big Bang South East, careers fair, cymatics art display demonstrating cymatics and what its like to be a full time artist for a living to 9-19 year school kids.
2015 - Mind Body Spirit Festival, Olympia, London - Crystal Cymatics, Digital media fine art, live video immersive installation in collaboration with sound healer Tiffany Keywood and the Soul Dome 360° immersive Cinema.
2014 - Kinetica, Old Truman Brewery, London - Aura Illuminator, Interactive Digital art installation in which the viewers experienced their aura in a hand painted mica black mirror.
2014 - Brighton Digital Festival, The New Sublime. Phoenix Gallery, Brighton - Cymatics Response, Digital art installation, technical collaboration.
2014 - Digital Art Gong Show, Phoenix Gallery, Brighton, Speaking about my digital art and cymatics film therapy.
2014 - Kymatic Konference, Black forest, Germany - A multinational conference. I was interviewed about my art and research for a cymatics documentary by world expert in the field, Jeff Volk.
2014 - Mind Body Spirit Festival, Olympia, London - Painting exhibition
2014 - Brighton Digital Festival, Zu Studios - Sounds Holographic, Multimedia performance and Kinetic Art installation with gong bath and live cymatics translation. Presented inside the Soul Dome 360° immersive Cinema.
2013 - Brighton Fringe Festival, Brighton, Jubilee Square,
Eon Solace - Collaboration with Sound healer Rowan Sterk and the Soul Dome 360° immersive Cinema.
2013 - The Omnia Scroll Exhibition in Venice - Gold and Silver fine art prints, now in private collection.
2012 - TSB Bank Wallace Arts Trust, Pah Homestead, New Zealand, Solo exhibition of gilded paintings in pure gold, silver & copper. 6 artworks in the private collection of Sir James Wallace.
2008 - Masters exhibition of Digital Art and Thesis 'Sound Vision'. Could the Visual form of sound be therapeutic?